FREE SHIPPING ON ALL ITEMS
CALL US:

888.761.4777
Telescope Casual

Telescope Casual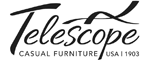 Authorized Dealer
Telescope Casual
Brand Story
Telescope Casual, a New York-based outdoor furniture company, has long established itself as a premier producer of top-quality outdoor patio furniture. Since its inception over a century ago in 1903, Telescope Casual Furniture has built a reputation for meticulously engineered, exceptional outdoor furniture and accessories. The distinguished brand first manufactured cots and campstools with "telescoping" legs, which is the source for the company's unique name. Over decades of continued growth and success, Telescope Casual continues to uphold its legacy as an industry pioneer by introducing new innovations and products to the market. In order to evolve to forthcoming technologies and trends, the brand expanded to a nearly one-million square foot state-of-the-art facility in Granville, NY, and maintains concentrated efforts in research, development, engineering and unique manufacturing processes. Much of Telescope Casual's success is owed to the brand's devotion in providing the highest levels of quality, design, comfort, and customer service, executed by the brand's dedicated arsenal of over 300 employees. Telescope Casual continues to demonstrate a steadfast commitment in exceeding customer expectations. From the Telescope Casual outdoor furniture itself, to first-rate service and delivery, the brand is well regarded for its high-quality, stylish outdoor wares. Telescope Casual remains family owned and operated, with a world-class reputation that is well deserved.
The Telescope Casual Furniture Product Line
PatioLiving is proud to offer the entire range of Telescope Casual patio furniture. Telescope Casual offers a comprehensive selection of outdoor furniture that encompasses a wide-ranging inventory of materials to suit any aesthetic or lifestyle. On PatioLiving, you'll find Telescope Casual patio furniture constructed from wicker, resin, cast aluminum, and marine grade polymer to complement any outdoor living area. The brand is best known for its Telescope Casual beach chairs introduced during the midcentury. In 1957, Telescope Casual Furniture was one of the first companies to introduce state-of-the-art aluminum to the outdoor furniture market. By the 1970s, Telescope Casual introduced sling powder-coated aluminum leisure furniture, well known for its durability and style. Today, you'll find an expanded outdoor lifestyle line of over 600 products that range from dining furniture, outdoor accessories, and lounge furniture, including specially engineered and crafted Telescope Casual chaise lounges. Outdoor accessories include market umbrellas (and accompanying bases and canopies), plush cushions, colorful chair covers, and enchanting fire tables. Telescope Casual provides all the wares to fashion an entire outdoor living space that is both stunning and durable.
Telescope Casual Furniture In Your Backyard
Ranked as one of the top-quality outdoor furniture manufacturers, Telescope Casual features versatile designs that will add a distinctive atmosphere to your patio. The brand's stylishly curated collections are engineered to withstand the harshest outdoor elements, while providing a chic aesthetic to your outdoor living space. A majority of cushioned lounge furniture can be custom upholstered to suit any style or color scheme, with over 30 bright and colorful fabrics to select over. Frames are also available to be custom designed with your choice of finishes that range from sleek textured graphite to casual textured snow. Standout furniture pieces include the brand's Telescope Casual director chair, which can add a charming dose of Hollywood glam to any seating arrangement, from outdoor dining areas to lounge spaces. However you decide to fashion your outdoor dream space, Telescope Casual provides the quality and versatility to execute a stunning backyard space that exudes your personal flair.
+ More
- Less
Shop Telescope Casual Collections
Shop Telescope Casual Categories
Shop Telescope Casual Products