Ready to jumpstart your patio's style in 2017? Unlock the design potential of your patio with the latest outdoor trends of 2017 by our favorite outdoor brands.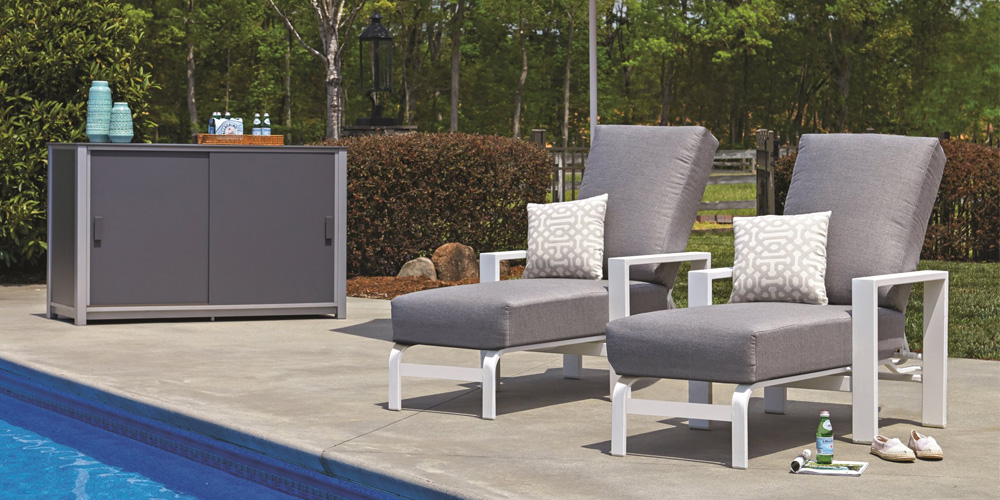 Ready to jumpstart your patio's style in 2017? Unlock the design potential of your patio with the latest outdoor trends of 2017 influenced by our favorite outdoor brands. From outdoor furnishings with an urban edge, creative mixed material constructions, and glam touches, 2017 patios are all about elevating the outdoor setting into a stylish outdoor retreat filled with modern ease.
Go Glam With A Chaise Lounge Bed

Outdoor living is no longer an elementary affair with foldable lounge chairs and portable end tables. The tide has turned to luxe living with outdoor spaces that carry all the comforts of home. If you're looking to infuse your outdoor space with a sense of Hollywood glamour, it doesn't get any better than reclining on a chaise lounge bed. The luxurious addition is statement-making elegance at its finest. We're in love with the double chaise in Woodard's Nova collection which comes with a canopy that is perfect for lounging in sunny weather. It features two connected seats that can individually recline for custom comfort.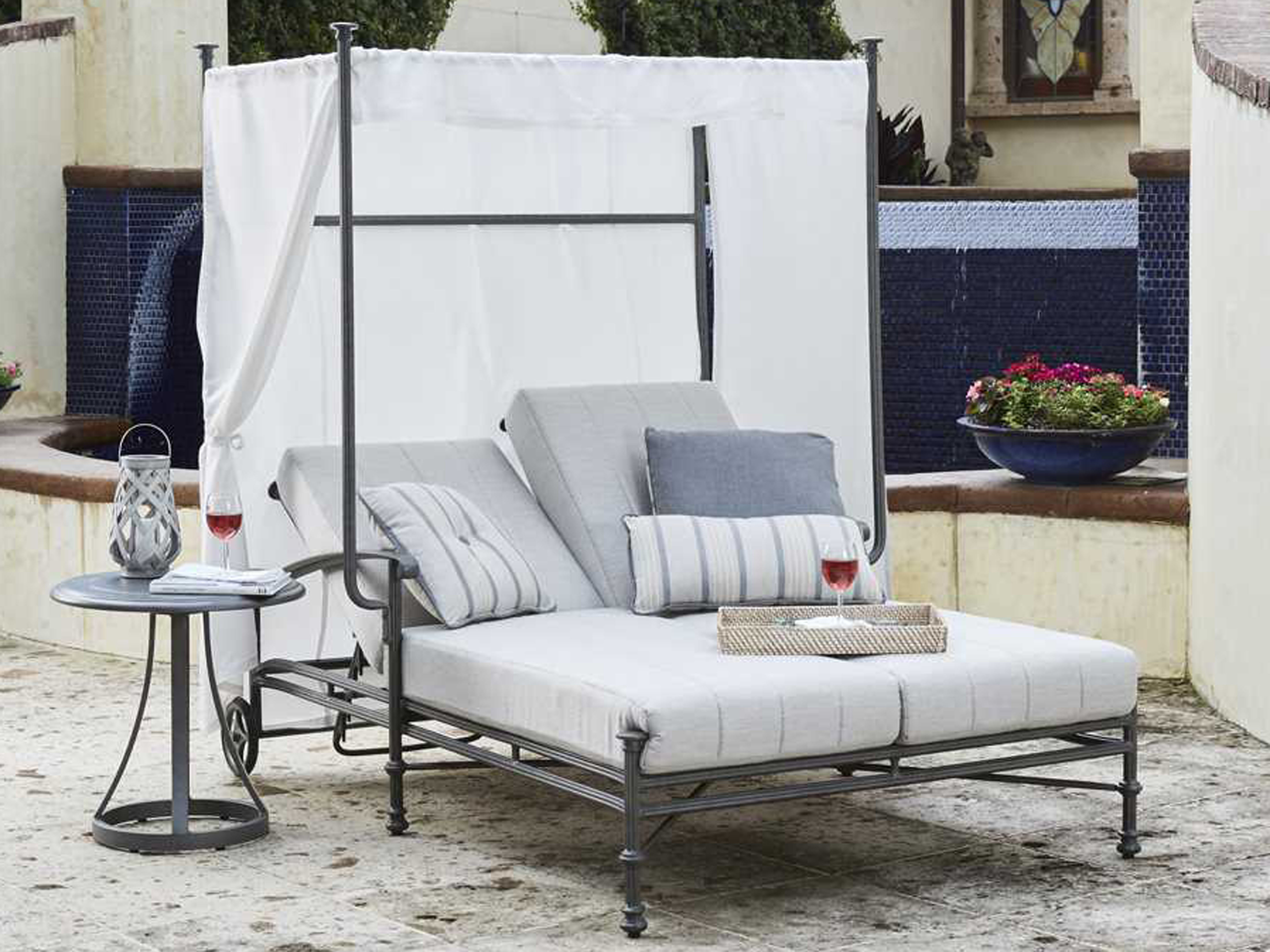 Wicker Gets An Urban Edge
Beautifully woven wicker furnishings have always held a special appeal with its rustic refinement. With the advent of modern technology, wicker outdoor furniture is more durable and popular than ever. Today's wicker furniture is truly an "all weather" option that is virtually maintenance-free. 2017 welcomes a new season of wicker furnishings updated with a contemporary urban edge that turns away from the boxy (often bulky) silhouettes we're accustomed to seeing. Tropitone's Kenzo Woven collection features sleek design with graceful lines. Its wide frames are constructed from aluminum, which are accented by a woven wicker body for a distinct look. A true standout is Woodard's Canaveral collection which is unlike any wicker furniture we've seen. The handsome collection features aluminum framed seating that features reticulated foam overlaid in a chic charcoal gray wicker weave. We think the minimalist style would perfectly complement small spaces like an apartment balcony.
Channel Country Ease With New-Age Materials

Classic country style has always been a mainstay of outdoor living. The relaxed style holds plenty of rustic charm that is equal parts quaint and effortless. The 2017 take on this never-going-out-of-style still retains the inviting warmth associated with the laid-back aesthetic, but is updated with modern living in mind. The Woodard Parc collection is constructed from modern performance aluminum that closely resembles natural wood and woven rattan. Influenced by the classic Americana porch style, dining and rocker chairs feature a classic cane-style back that nods to the artisanal charm of decades past, but with materials that are all 21st-century ease.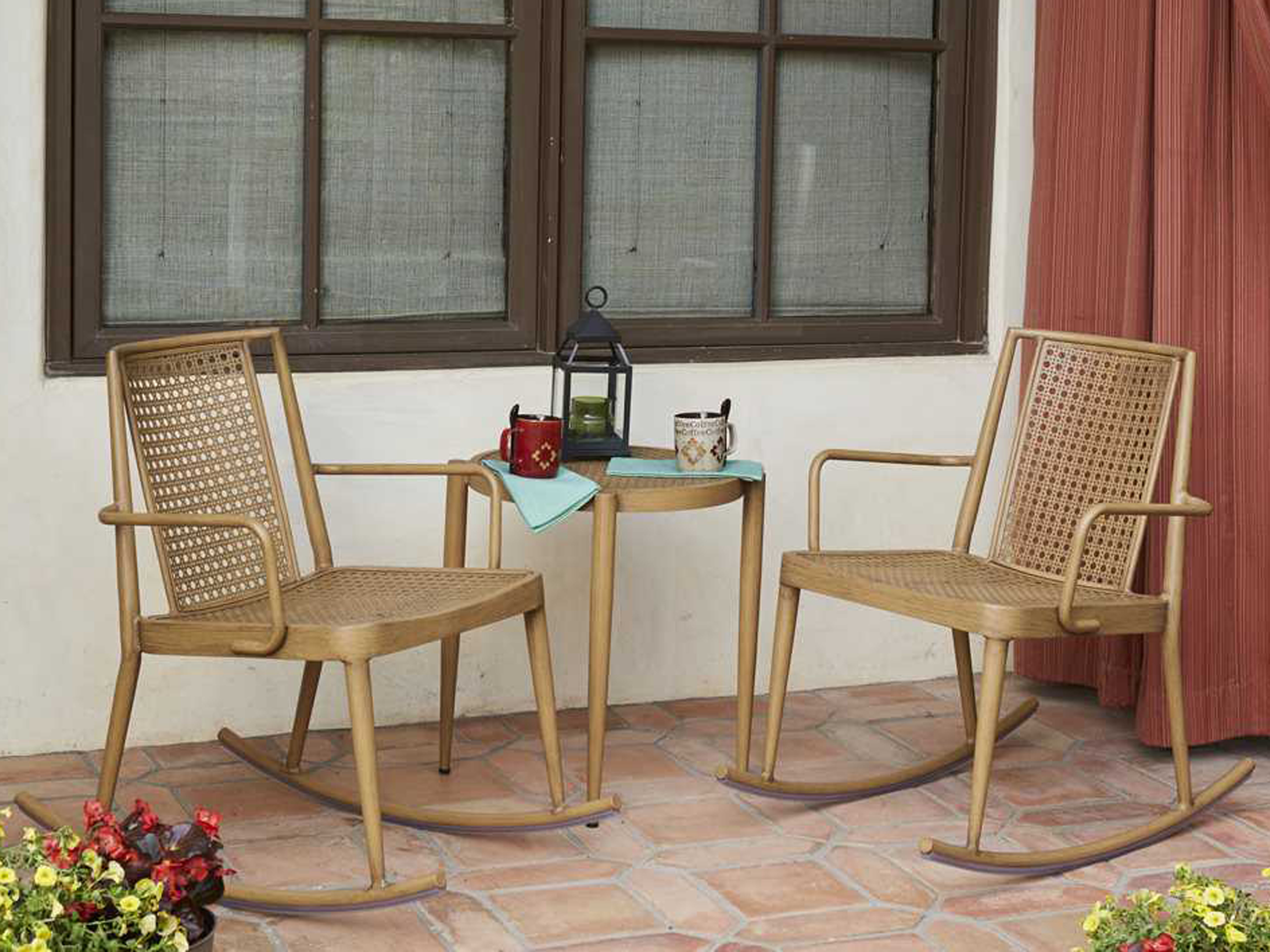 Tailored Styles Mix Deep Seated Comfort
Soften things up with deep seated cushions that invite guests to lounge a little longer. An outdoor trend worth embracing for 2017 is creating a cozy outdoor space that feels just as comfortable as your indoor setup. The indoors-out furniture trend sees outdoor furniture elevated to new comfort levels with tailored seating that looks just as good indoors, as it does outside.
We love the sharp silhouettes and clean lines of Telescope Casual's Larssen collection, and Lloyd Flanders Catalina collection, which boasts sophisticated styling with mixed material construction.
The Umbrella, Reinvented

If you've ever been caught out in the sun during summer without overhead shade, you understand that a patio umbrella is an essential for your outdoor space. With so many colors and patterns available, an umbrella is the perfect finishing touch to a backyard setup that not only protects and keeps you cool in the heat, but adds defining aesthetic flair. For 2017, Treasure Garden has reinvented the classic shade solution with the Lotus umbrella which takes inspiration from the flower of the same name. The Lotus umbrella features a unique and elegant canopy design with advanced engineering that allows you to close the canopy upwards. The upward retracting motion allows for greater clearance above lounge and dining areas for maximum convenience.
Create Ambiance With A Fire Pit Table
Gathering around the fire is a time-honored tradition of enjoying the outdoors. A fire pit table allows you to channel the cozy vibes in the convenience of your own home. The addition of a modern fire pit table is a striking way to create ambiance within your outdoor space that provides a warm place to gather, and a place to set things down like food and drinks. The posh selections at Outdoor Greatroom are a sure-fire way to add cozy appeal to your backyard. We like the sleek model from the Grandstone collection which features a built-in glass wall that brings a touch of the indoors out. The glass provides a protective layer around the fire, perfect for families.