Step inside for home style inspiration, seasonal decorating ideas and gorgeous colour schemes for every room.
Rattan, cane and wicker were all major style trends in patio furniture last year — particularly for the Spring and Summer seasons of 2020. During that time, we learned how to style rattan and wicker patio furniture in our gardens and backyards. This year, the trend continues with an intriguing Victoriana twist whereby rattan and wicker patio furniture are repurposed for Grandmillennial interiors. The vintage-meets-contemporary, mumsy-meets-modern Grandmillennial style has already overtaken interiors in 2021. Elements of the Grandmillennial decor trend include Chintz and toile wallpaper, lace and doilies, pastels and floral prints and snarky sayings embroidered on pillows. This revival represents a fun clash between "grandma" style and "Millennial" aesthetics, thus the moniker. As Tricia Goss explains in her article "'Grandmillennial' Is The Newest Home Decor Style You Should Know About" for SimpleMost, the Grandmillennial decor trend is "'for all Millennials with old souls.'" Such eclectic interiors feel particularly now, despite the fact that they pull so much from the past.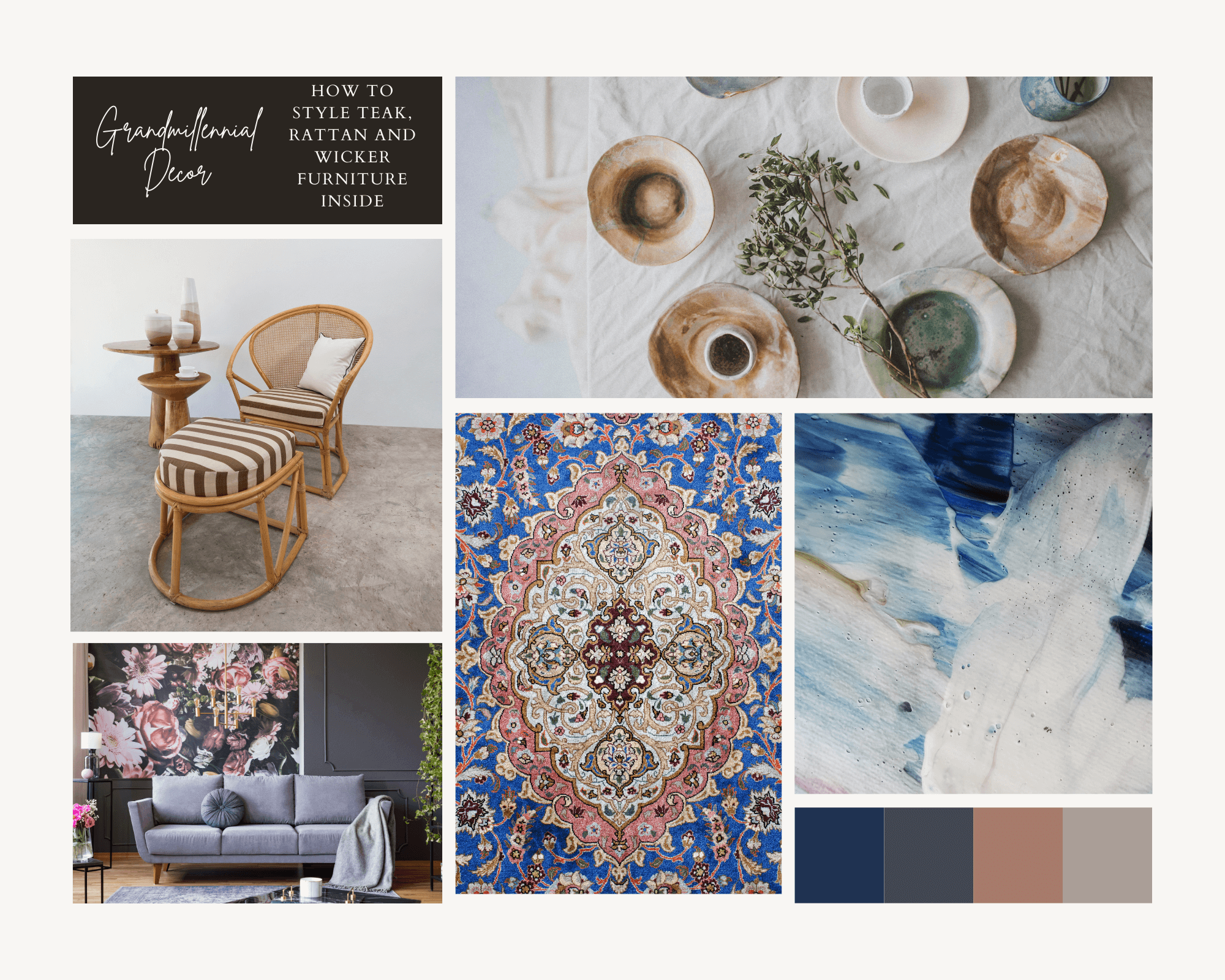 Grandmillennial interiors "veer away from the defined lines and sleek surfaces of mid century modern" instead bringing in "homey, nostalgic pieces, albeit often with a modern update." Goss describes Grandmillennial spaces as a hodgepodge. They are filled with furnishings "made of wicker or upholstered in blocked prints or floral chintz patterned-fabric...an eclectic mix including needlepoint, fringes, and period pieces…[and] fresh, modern decor" all at once. The "furnishings made of wicker" is where patio furniture comes in. Coastal designers and architects have long pushed to blur the delineation between outdoor and indoor spaces, meshing the two by bringing plants indoors and accenting interiors with floor-to-ceiling windows. With floral wallpaper and natural materials in starring roles, it appears that the Grandmillennial style might be another way to blend the outdoors and indoors. Learn how to bring teak, rattan and wicker patio furniture indoors to create a fresh and fun Grandmillennial interior with our style guide. Follow below for tips on styling patio furniture in your home!
Exploring the Grandmillennial Interiors Trend
Where Did Grandmillennial Decor Come From?
As one might already know, the label "grandmillennial" was allotted to young people seeking cozy interiors inspired by traditional design elements often attributed to the homes of their grandmothers, large out of fashion until recently. In fact, self-proclaimed "grandmillennial" Emma Bazilian of House Beautiful coined the term in 2019 after recognizing the growing trend and perspective. The Grandmillennial interiors trend has reached the height of its popularity at the same time other "more is more" trends have also picked up steam.
Eclecticism, maximalism and Victoriana have all found their way back into vogue, writes Madeleine Luckel in her article "Three Formerly Unpopular Decor Styles Are Merging Into One Big Design Trend" for Architectural Digest. In her article, Luckel describes the key elements of Grandmillennial decor and who exactly a grandmillennial is. According to Luckel — and Emma Bazilian — "a Grandmillennial is a young-ish, Instagram-posting, décor aficionado with a passion for floral chintzes, Sister Parish interiors, and more."
Keys Elements of the Grandmillennial Decor Trend
Grandmillennial interiors are unique in a wonderful, exceptionally timely way. They fuse the contemporary with the vintage and antique, not only in furniture and decor but also in the atmosphere and flow of each space. For instance, a Grandmillennial kitchen might feature a modern, open floor plan, but might also feature china cabinets filled with Delftware and doilies. Elizabeth Mayhew explains this in her article "The 'grandmillennial' style brings tradition and peaceful decor into the home" for The Washington Post. Mayhew writes that visitors might find "wicker, chinoiserie and floral chintz... Blue Willow china and ginger jars...crystal chandeliers and...milk glass" in a Grandmillennial interior. According to a recent article from Homemakers Etc., the elements of Grandmillennial style include "painted furniture, drapes, tablecloths, gold accents, floral designs, wallpaper, scalloped lamps, tufted sofas, fringes and wicker details."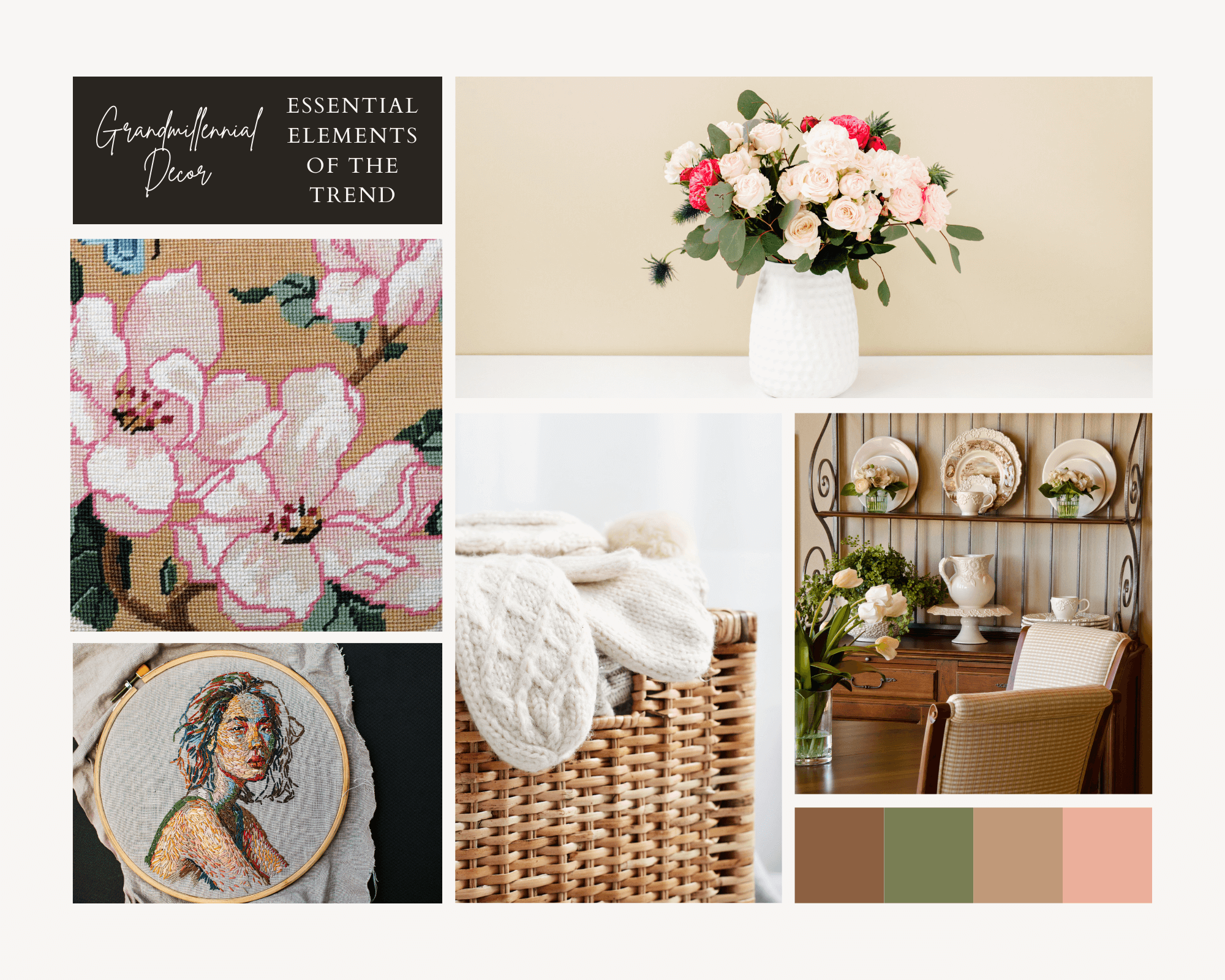 In addition to these more old-fashioned elements, Grandmillennial style also features contemporary, witty and punchy pieces befitting its target demographic of young, professional women. Interior stylist Katherine Balcerek Medlin elaborates in her blog post "8 Essentials for Grandmillennial Decor – Splurge vs. Save" for Pender & Peony. Medlin writes that "the interiors of grandmillennial style are discriminating but lived in." They are "romantic but bold; and classic but fun." Essentially, writes Medlin, Grandmillennial style "takes the traditional motifs and lines but uses them in fresh ways with updated colors, streamlined furniture, preppy classics, and whimsical playfulness!" Grandmillennial interiors are often personal, displaying pieces purchased during one's own travels and art bought at auction as well as heritage furniture and family china. Traditional decor elements — like needlepoint and embroidery — are updated with fresh — and often sarcastic — phrases. Trendy houseplants abound, as do printed textiles — e.g. drapes, throw pillows and more — by contemporary artisans.
Tips on How to Style Rattan and Wicker Patio Furniture for a Grandmillennial Interior
#1 Pick a Color Palette and Stick to It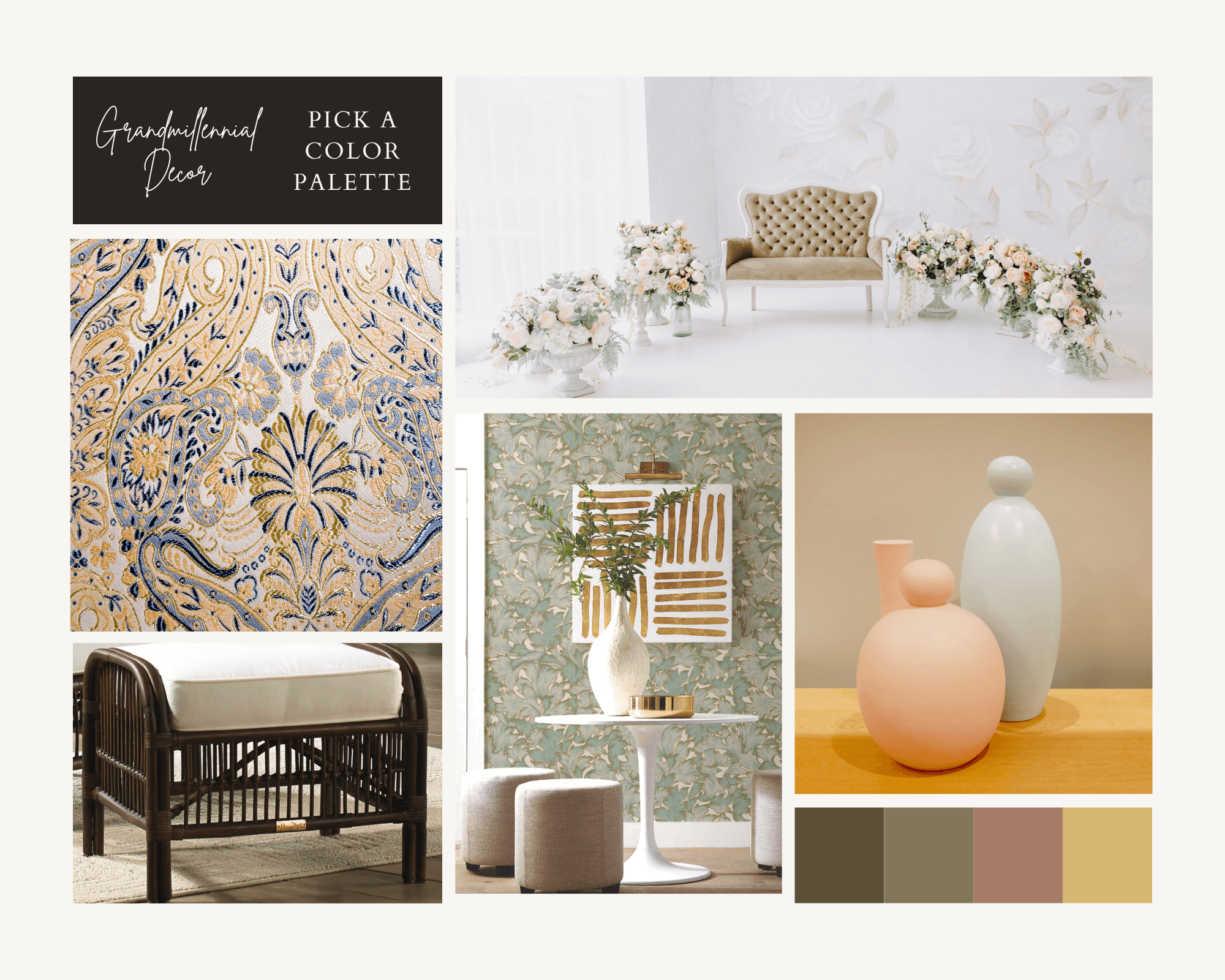 The article "The Rise of Grandmillennial Style" from interior paints and coatings company Dunn Edwards outlines common color schemes for Grandmillennial interiors. Dunn Edwards suggests choosing a warm palette, but cooler pastels are also perfectly acceptable. Their favorites for the trend include a series of "serene and sophisticated peaches, pinks and traditional tones." While soft tones are most often chosen for Grandmillennial interiors, some designers have chosen bolder colors like navy blue, hot pink, lime green and neon orange. As long as the space is brimming with floral toiles and chintzes, lacy frills and traditional tassels, the chosen colors can be whatever the decorator desires.
The only catch is described by Katie Laughridge in her article "Style at Home: The new tradition of grandmillennial style" for The Detroit News. Laughbridge notes it is essential "when using varied patterns and textures [to] keep your color palette consistent to keep your room cozy instead of chaotic." We recommend maintaining a palette of dark neutrals — e.g. black, charcoal gray, navy blue and hunter green — or modern pastels — e.g. off-white, lilac, mint, sage, sand and shell. Each of these tones pairs well with the natural tans and browns of wicker, rattan and cane furniture. Get the look with the Panama Jack Bora Bora Wicker Ottoman from PatioLiving.
#2 Tie in Natural Accents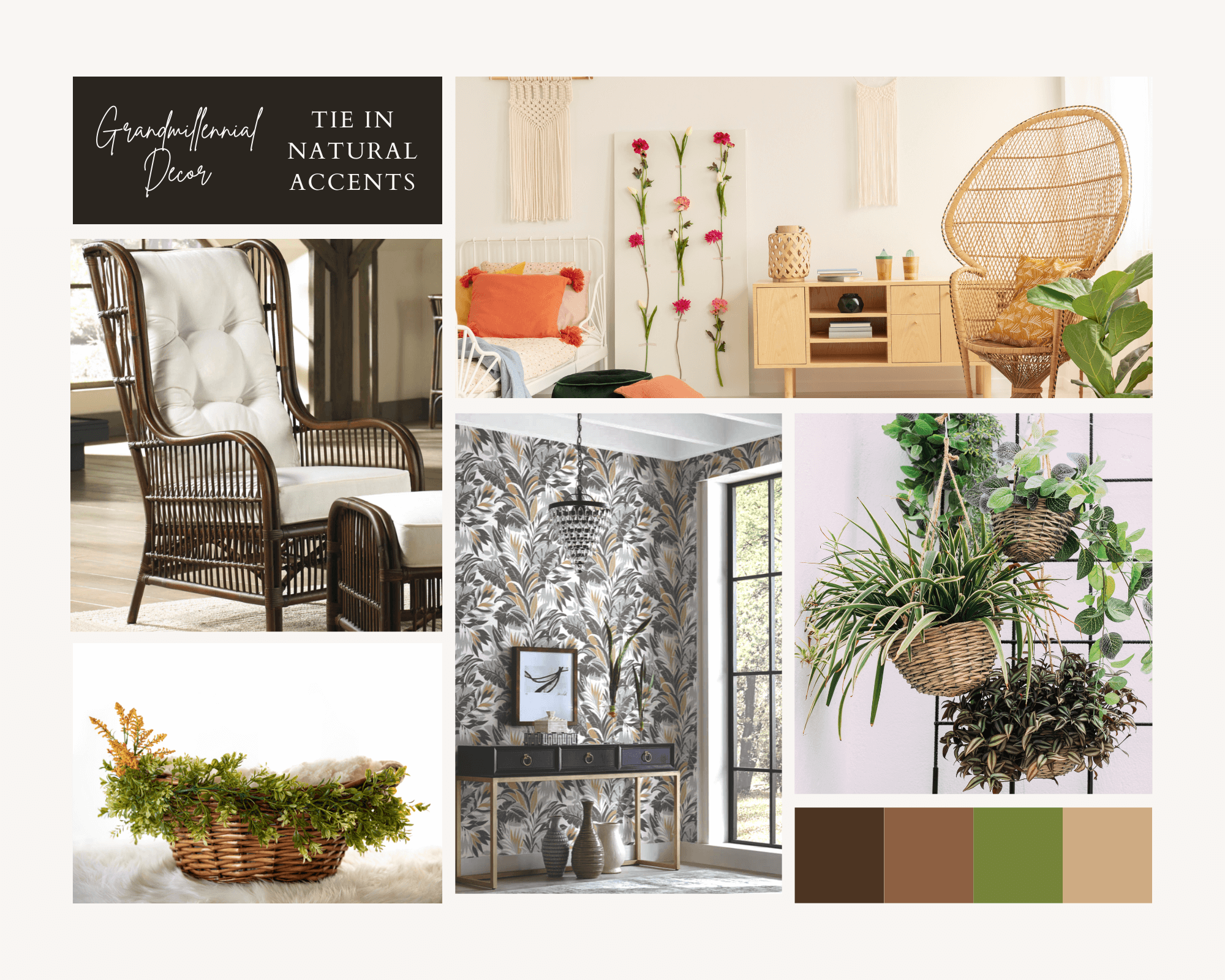 Victoriana is a clear stylistic feeder of Grandmillennial design, with its gilded accents and focus on floral and foliage motifs. It was during the Victorian era that pastimes of both the British upper and lower classes began to change, shifting from indoor activities to playing croquet at picnics, bicycling across town on pleasure rides and escaping to the seaside for an afternoon. It was during the 19th century that interest in horticulture and the belief that time spent outdoors was a tonic of sorts skyrocketed. Bringing the outdoors inside would become increasingly popular until the trend hit a fever pitch with the 20th century Arts and Crafts Movement.
Honor the inspiration behind Grandmillennial design by surrounding rattan, cane and wicker patio furniture with foliage-rich houseplants. According to Mary H. Dwyer in her article "Victorian Garden History – Style Of Gardens In Victorian England" for Gardening Know How, "Victorian gardeners preferred large, bold plants like cannas, lilies, dahlias, ornamental grasses, castor beans, ferns, gladiolus or coleus." Keep these plants in mind when choosing a floral wallpaper and houseplants alike! Pictured above is the Panama Jack Bora Bora Wicker Occasional Chair from PatioLiving.
#3 Mix and Match Materials, Periods and Prints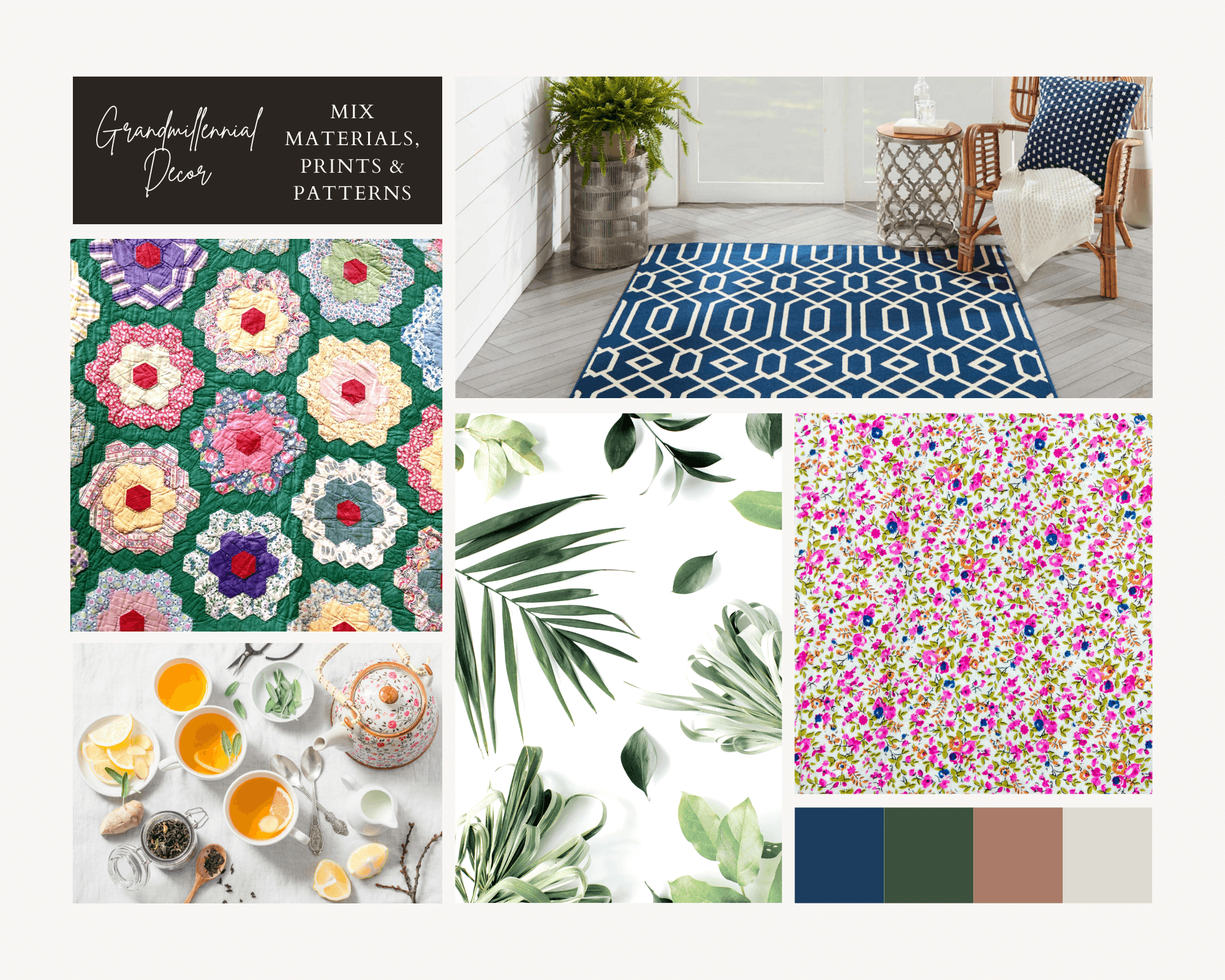 Wicker, rattan and cane patio furniture tends to trend towards vintage and antique silhouettes and styles. However, there are some pieces with a distinctly modern aesthetic, painted in silvery tones or accented with streamlined metal legs or arms. Similarly, prints featured on the cushions of rattan ottomans and wicker chaises can be either bold and graphic or feminine and floral. In order to create a successful Grandmillennial interior using patio furniture, be sure to accent vintage-leaning pieces with contemporary and modern accessories. Conversely, be sure to accent contemporary furniture with vintage and antique accessories. Mixing and matching materials, time periods and size, scale and style of prints is essential to striking the right balance between old and new in Grandmillennial interiors. Pictured above is the Momeni Baja Navy Rectangular Area Rug from PatioLiving.
Our Favorite Grandmillennial-Inspired Furniture from PatioLiving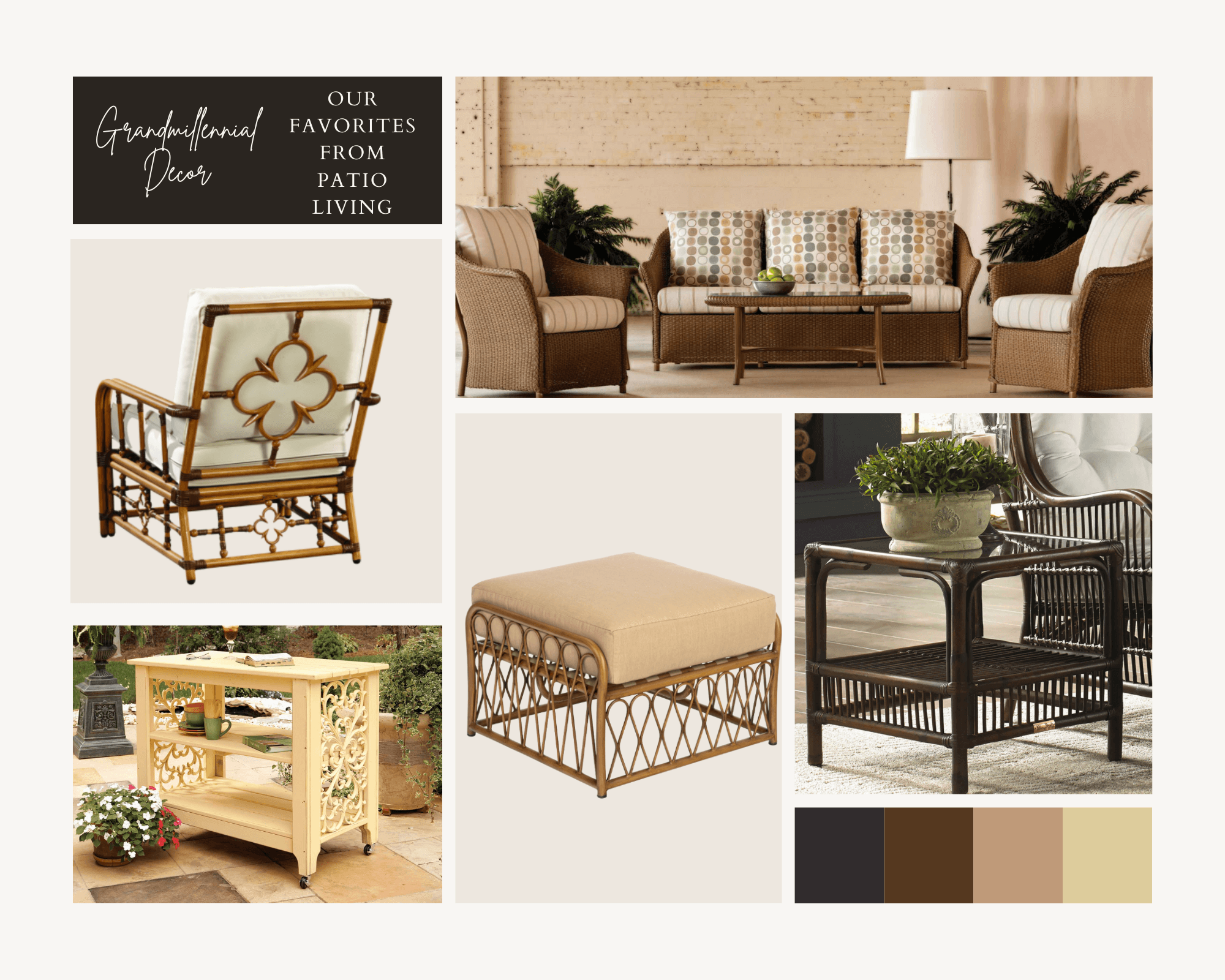 (From the Upper Left to the Lower Left) Lane Venture Mimi By Celerie Kemble Raffia Aluminum Lounge Chair, Lloyd Flanders Weekend Retreat Wicker Lounge Set, Panama Jack Bora Bora Wicker 20 Square End Table, Woodard Cane Aluminum Cane Ottoman and Uwharrie Chair Veranda Wood Serving Cart
Each piece on our list of favorite patio furniture from PatioLiving befitting the Grandmillennial interiors trend features a classic silhouette and intriguing carving, weaving or latticework. We love the Panama Jack Bora Bora Wicker 20 Square End Table for its dark lacquered stain, glass tabletop and sharp lines. The Uwharrie Chair Veranda Wood Serving Cart is another favorite for its lightly distressed pastel yellow paint and delicate arabesque carving. PatioLiving's Lloyd Flanders Weekend Retreat Wicker Lounge Set rather speaks for itself, with its punchy printed pillows, swooping arms and high backs. Lastly, the Woodard Cane Aluminum Cane Ottoman and Lane Venture Mimi By Celerie Kemble Raffia Aluminum Lounge Chair offer comfort, neutral upholstery and a variety of textures, tones and patterns throughout.