Darlee Outdoor Living Standard Santa Anita Cast Aluminum Antique Bronze Dining Chair
DA3011201 + Santa Anita Collection by + Darlee Outdoor Living
From $231.80
List Price $331.14 Save $99.34

30% OFF
FREE SHiPPING
+ Shipping Info
WHITE GLOVE
Front Door
+ White Glove Info
Usually Ships within 1 to 5 Business Days
Select Standard or Custom Color Options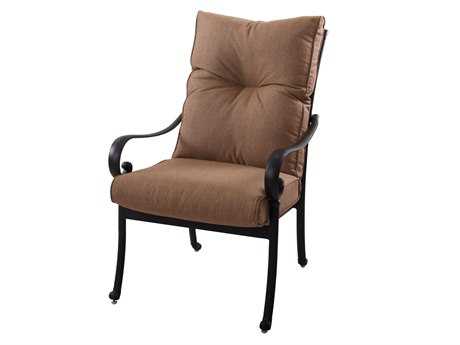 Standard
Custom
PRODUCT INFO
Product Specifications
Construction Quality
Residential
Dimension
26.5''W x 32.5''D x 41''H
Cushion Material
Polyester Fiber
Seat Dimensions
19''W x 22''D x 15''H
Product Features
Choosing a Sunbrella Fabric will extend the lead time to 2 - 3 weeks.
Some Assembly Required
MORE DOCUMENTS
SANTA ANITA COLLECTION
MORE DINING CHAIRS
PRODUCT REVIEWS
Glad I Purchased This

Plano, TX 8/18/2016 12:00:00 AM

I researched and looked high and low for the "right" patio furniture. I shopped looked at multiple retail stores as well as online. I read reviews on the Darlee furniture and decided to take a chance. I ordered over $7,000 worth of furniture from Patio Living. I was super excited to receive my new patio furniture but still a little leery since I was spending so much online. When I unpacked the chairs, fire pit and dining table for eight, I was pleasantly surprised at the high-end quality and size of the chairs and cushions. This item is made well and the antique bronze looks both black and slightly brown...perfect!

Really Nice set!

Rock Tavern, NY 4/3/2016 12:00:00 AM

Found this set originally at Lowes. Shopped around and Luxe Décor had it a few hundred dollars cheaper plus no tax or shipping! This is a top quality set. The chairs with the cushion are very luxurious feeling. Thou I did need to buy another storage bin to hold all the cushions because they are so big (nice but big). The table is taller than a normal dining set but the chairs are the standard height. I like this because we have small kids I feel more comfortable that the fire pit is harder to access. This is a great cross over set between a conversation set and a dining set. Still spring and purchased this to put around the pool. Haven't tried the fire pit yet but looking forward to it. The metal is black but there is a small amount of the 'bronze' dusting. Very faint – but there. Everything very solid and top quality.