Need a patio table? Our Patio Tables Buying Guide lists the different styles, designs, and features of patio tables, so you can easily choose the right one for your space!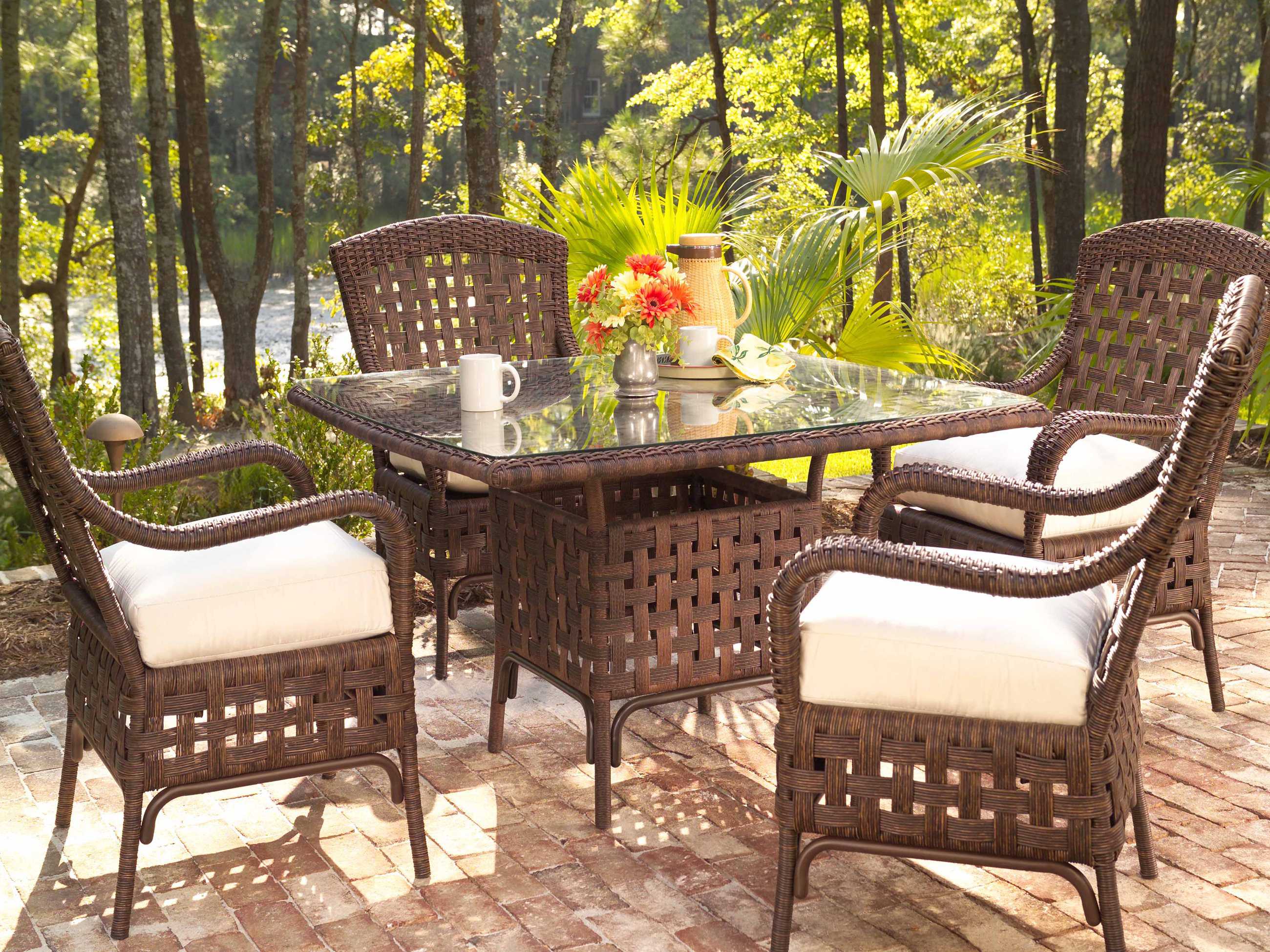 No outdoor patio is complete without the perfect patio table. Think about it -- the patio table is where people gather to eat, drink, talk, or just relax. Whether you're enjoying a cup of coffee alone in the morning, having a few friends over for late night drinks, or hosting a big family barbecue, your patio table will be the hub of your entertaining space.
There are many factors to consider before choosing your perfect patio table.
How much space is available for your table? Are you decorating a large back yard, or trying to utilize space on a smaller balcony?

Do you like to entertain? How many people will typically be using the table at any given time?

What material would look best in your space, and fare best with the climate in your area? What shape would fit best with your desired look and usage?
In this guide, we'll walk you through the basic styles, sizes, and patio table materials available so you can figure out exactly what would work best in your space.
Styles
Dining Table: An outdoor dining table is used for dining alfresco, and is ideal for a home that typically hosts a lot of guests. Dining tables are typically rectangular in shape, but are also available as round, oblong, square, or even octagon or hexagon. The shape of the table depends on how many people will be using the table at any given time. Depending on the size you choose, a dining table can usually seat one to eight people comfortably.
Bistro Table: Bistro tables are small tables typically suited for one or two people. These tables are perfect for a small backyard or balcony, and serve as a relaxing place to enjoy time outdoors.
Coffee Table: A coffee table is usually placed near an outdoor sofa or lounge set. Coffee tables serve as a great centerpiece for a lounge area to hold food and drinks, and to anchor the space. Coffee tables come in a variety of shapes and sizes, and are typically smaller than a dining table and closer to the ground; the top of the table is typically even with the seat of your sofa or chair.
End Table: End tables can be placed adjacent to any type of seating to provide a place to set items like drinks or food. They are small, typically decorative tables similar to the end tables in your living room or bedroom. End tables usually serve as a complement to a coffee table in a lounge set, but can also stand on their own.
Bar Table: Bar height tables are great for entertaining and are suited to accommodate standing adults or bar height chairs. Placing a few bar tables around your patio space creates a relaxed and inviting atmosphere where guests are free to mingle and move about the area. Bar tables come in various shapes and sizes but are typically tall and slender with a small top.
Chat Table: Chat tables are shorter than dining tables and taller than coffee tables, but are similar to both in function. They are used to anchor a space while being low enough to facilitate conversation and high enough to place food and drinks that can easily be reached by the people sitting around it.
Fire Pit Tables: Fire pit tables are definitely not suited for every space or every day use, but if you enjoy hosting bonfires on chilly nights then a fire pit table might be for you! These tables come in various shapes, sizes, and heights, and can be powered by propane or natural gas depending on the capabilities of your space. The are typically placed near lounge chairs and sofas to create a perfect bonfire area!
Console Tables: If you're short on space, you may consider a console table. Console tables are designed to be placed against a wall or against a large piece of furniture, like a sofa, and often have storage capabilities to further enhance the functionality of the piece. While console tables aren't used for dining, they can be a great addition to a patio to hold decorative accents and items like towels or gardening tools.
Picnic Tables: You've seen classic picnic tables at your favorite park. Why not have one in your backyard? Picnic tables are a great, practical choice for anyone who is looking for a durable dining table option for their space. While picnic tables are often used in commercial spaces, they can provide much needed seating on your patio as well.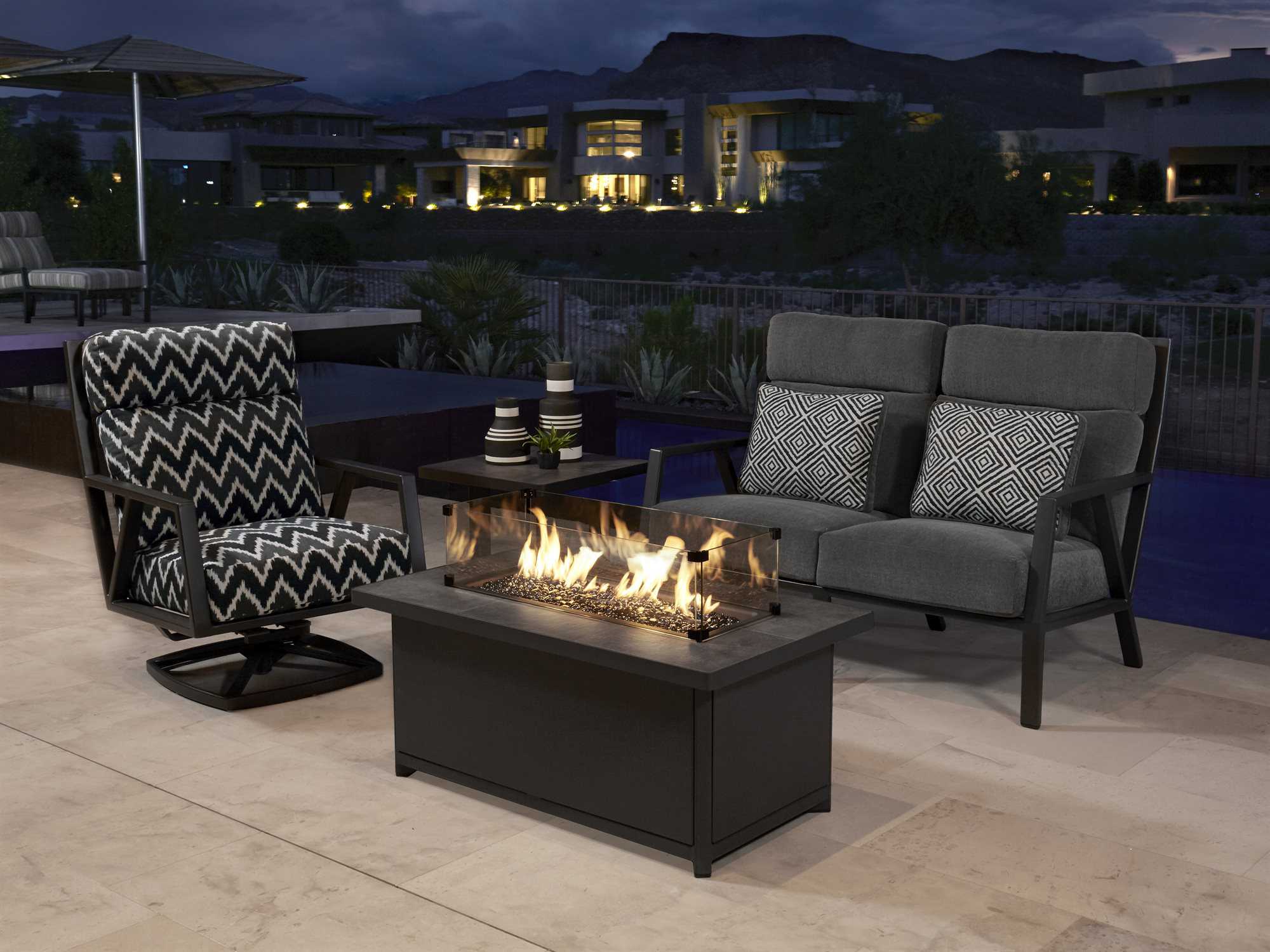 Sizing & Usage
How much space do you have on your patio? Are you buying a table for a small balcony or backyard, or are you looking for a table to fill your large entertaining space? When buying patio furniture, it is important to buy pieces that will not overpower your space and allow you and your guests to comfortably move around when chairs are added.
A good rule to live by is to allow 18 to 24 inches per place setting, and 6 to 12 inches between place settings. This allows your guests plenty of room to sit comfortably. At these dimensions, you can fit four people at a square table up to 40 inches, a round table up to 44 inches, and an oblong table up to 46 inches. If you want a table to seat six people, go for one up to about 56 inches. A table up to about 70 inches can seat eight. The largest tables can fit up to 16 people!
Small spaces are well suited for small tables, like a bistro table with one to two chairs for a comfortable place to eat, chat, or relax. If you have a small space you may also opt for an end table placed close to a lounge chair, the perfect spot for your morning coffee. Bar tables and small coffee tables could also work well in a small space, as long as your seating area is not overcrowded. When working with a small space, you would typically want to use a round table rather than a square or rectangular table, to give yourself enough room for chairs and possibly additional patio furniture.
If you have a large space, the world is your oyster. You can opt for a large dining table to host guests, a chat table placed near a grouping of lounge chairs, end tables at either end of an outdoor sofa, or any combination of the three! You can also place several bar tables around your patio, perfect for entertaining large groups. When you have a large area to work with, your most important consideration is going to be usage. If you're hosting dinner parties, a dinner table is the obvious choice. If you have a sofa, or plan to get a sofa, you may consider one or two end tables to complete the look. If you want to include a table in your lounge configuration, a coffee table or chat table might be best. The styles, sizes, and number of tables you need will depend on your personal usage of the space.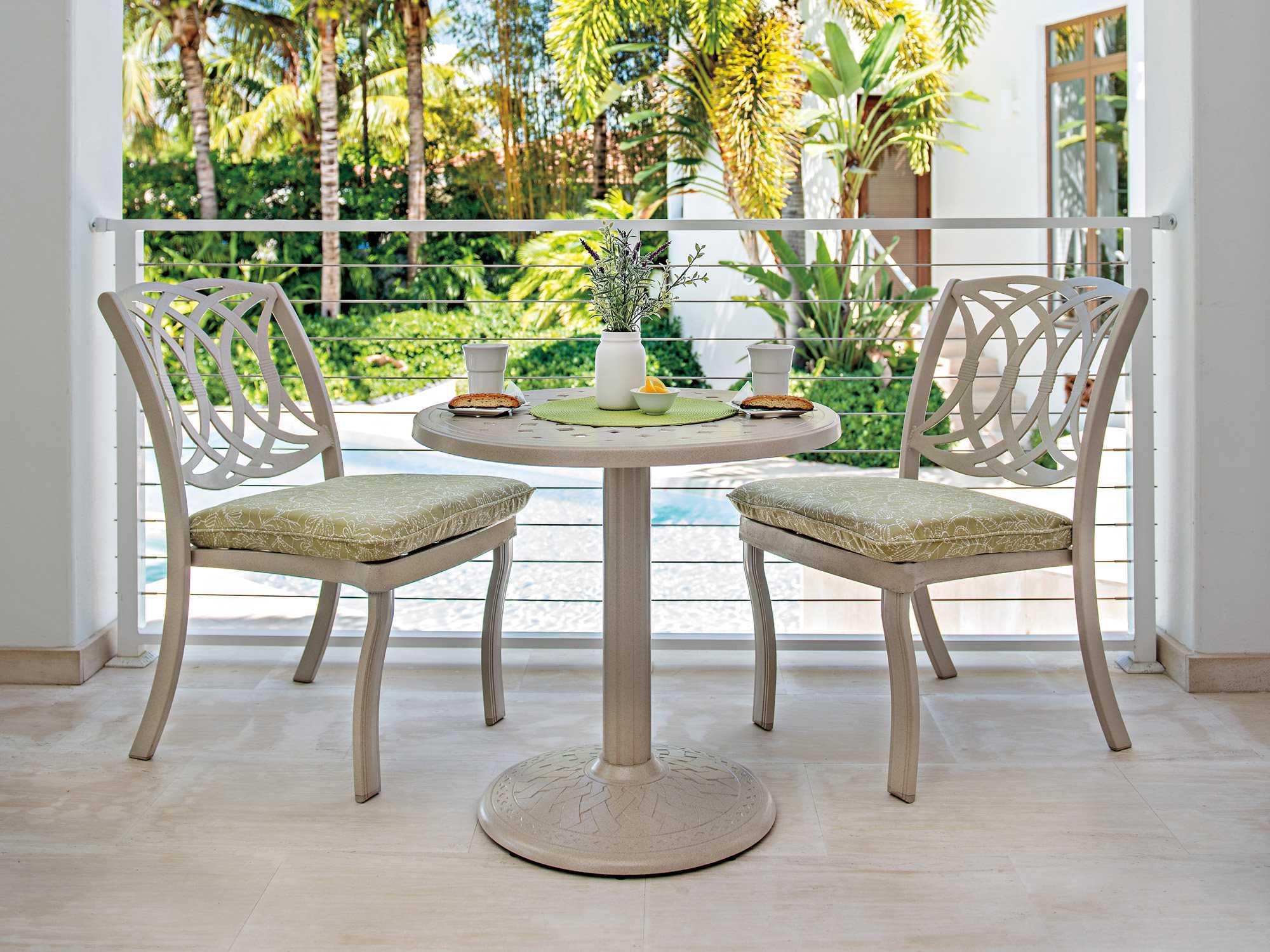 Materials: Look & Feel
Choosing a material for your patio table takes special consideration because outdoor furniture needs to be durable enough to withstand the weather conditions in your area. All outdoor furniture material is specially engineered for outdoor use, but each type of material has different factors you should consider.
If you live in an area that typically experiences strong winds, you should consider a heavy and durable material like wrought iron. If you need something lightweight that can be moved easily, aluminum might be your best bet. Do you live in a wet climate with lots of insects? Try teak.
Once you figure out the best material to withstand conditions in your area, you also have to think about your desired look. Wrought iron has a classic garden look, while teak is a light, natural wood that gives off a different vibe altogether.
Each outdoor furniture material has pros and cons, depending on the specific climate of where you live. Check out our Outdoor Materials Buying Guide for more information on the right material for your space.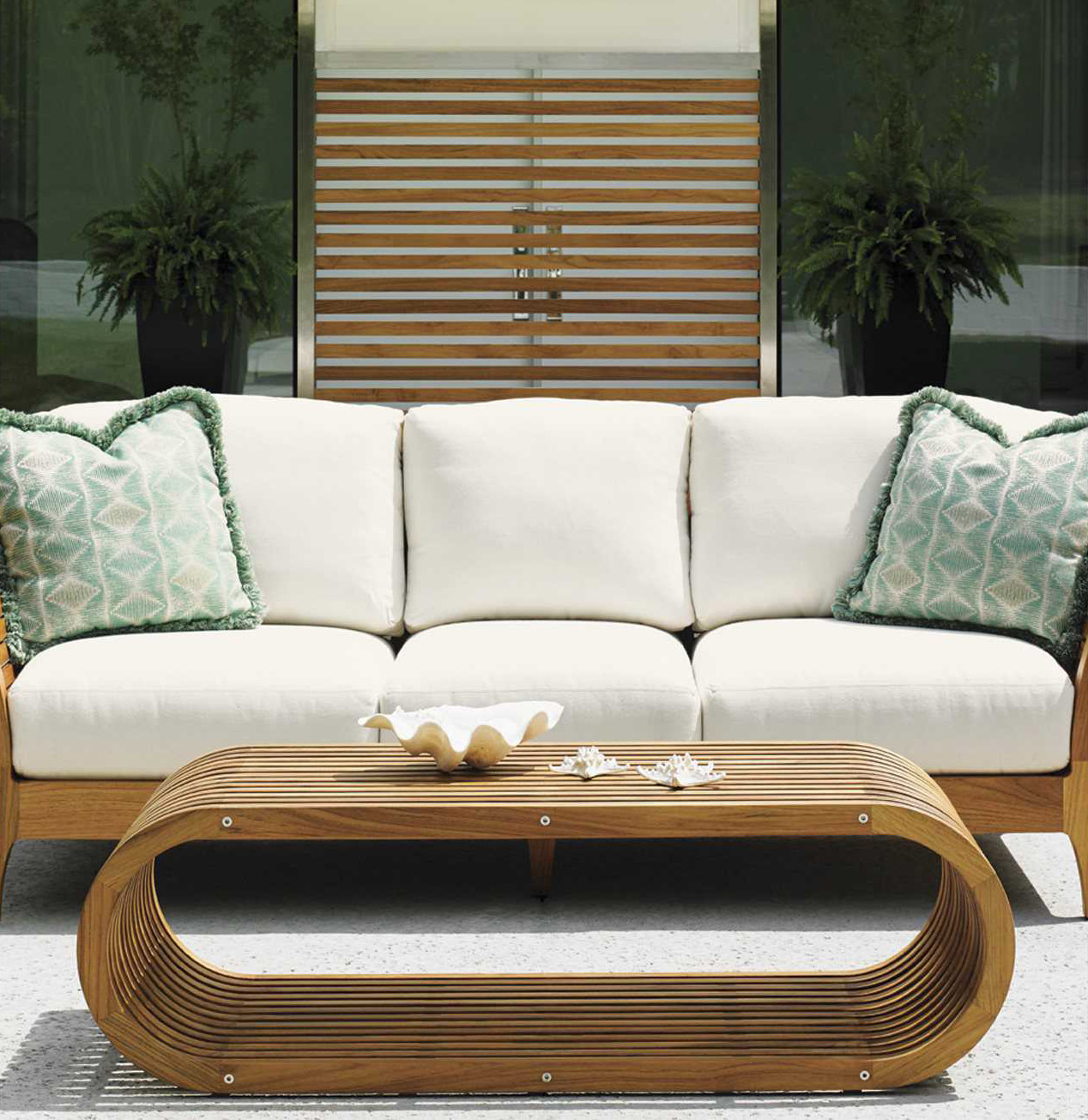 Additional Considerations
Looking to incorporate an umbrella into your patio design? Many patio tables come with an umbrella hole in the center, perfect for placing and umbrella and providing shade for you and your guests while dining or just relaxing outside.
No matter what the weather is like in your area, the outdoor elements will wear on your table over time. Be sure to get a patio table cover to protect your table and keep it beautiful for years to come.