Patio heaters extend the use of your outdoor space during the cooler months of fall and winter.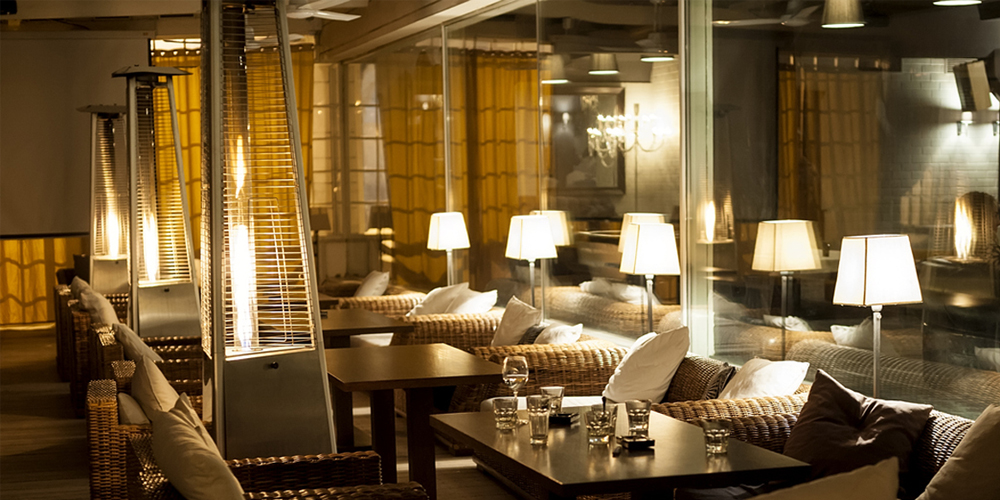 An outdoor heater emits heat to produce a toasty environment when cold weather sets in during the autumn and winter months. Patio heaters make great outdoor accessories that serve to bring a unique decorative element to your outdoor setup. Producing heat and a bit of glow, an outdoor heater provides a warm ambiance for guests even during the colder months of fall and autumn months. Available in various styles and types, PatioLiving outlines the different features and types of patio heaters available to help determine the ideal heater for your lifestyle and outdoor setting.
What Type Of Heat And Fuel Should I Use?

Pros And Cons Of Natural Gas
Natural gas heaters are permanent fixtures that are not portable

Natural gas heaters are attached to a fixed gas line, which means users won't have to replace fuel tanks regularly

More environmentally sustainable than propane gas heaters

Lowest cost operation, but requires professional installation

Pros And Cons Of Propane Gas
Propane gas heaters do not require any professional installation, and are are portable and easy to use.

Propane gas powered heaters operate at a higher cost because propane tanks, which fuel the heating unit, need to be regularly replaced

Infrared Heat V. Electric Heat
Infrared heat is an efficient type of heat because ithe heat is absorbed and locked into the surrounding objects, instead of through the air. The heat absorbed in objects is slowly released into the air.

On the other hand, electric heaters take little time to warm up. With the help of an electrical outlet, heaters powered by electrical power are extremely conveninient and rarely require professional installation. Eletrical heaters are environmentally friendly, producing zero emissions into the air. The average life span of an electric heater averages about 5,000 hours.
Determining BTU Power For Your Outdoor Living Space
British Thermal Unit (BTU) measures the thermal (heat) energy in fuels. BTU is the amount of energy needed to raise one pound of water one degree Farnheit (at sea level). BTU is helpful because it determines the energy output of a heating unit. In general, the higher the BTU the greater the performance. However, it is not advised to select a heating unit that is too large for a space as it is not not energy efficient, and power consumption will prove costly. Instead, a balance between power and space size are the ltwo consittuents to cosnder when determining the appropriate size heating unit for your lifestyle. The recommended BTUs to heat an outdoor area include:
Area In Sq. Feet
Recommended BTUs

Different Styles Of Patio Heaters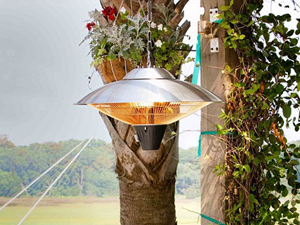 Hanging Patio Heater
A hanging patio heater is intended for installation from a ceiling. This type of model is ideal in compact spaces, such as an enclosed gazebo or porch area. Because of its convenient size, hanging patio heaters prove to be a versatile outdoor appliance that won't take up much room along tabletops floors, and walls. Most hanging patio heaters are electrically powered and range in power from under 10,000 BTUs to 30,000 BTUs.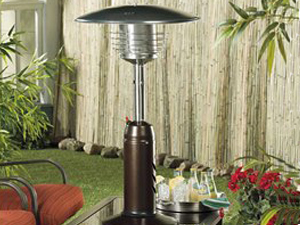 Tabletop Patio Heater
Tabletop heaters are petite in size, and can be considered miniature versions of electric and propane gas heaters. These types of heaters are easily portable and transportable. Propane gas models will feature a compartment to discretely hold a propane tank, and do not produce more than 30,000 BTUs, making them well-suited for small spaces such as balconies.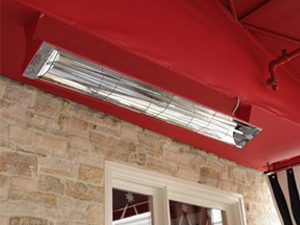 Mounted Patio Heater
A mounted patio heater is generally attached to a wall and is intended for permanent use. These space-saving models take up no additional floor space, leaving plenty of room for furniture and guests. A mounted patio heater is ideal in small spaces such as a sunroom, porch, or deck.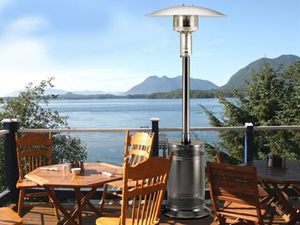 Standing Patio Heater
A standing patio heater is well-suited in many environments due to its upright profile and sleek silhouette. Available in various styles and sizes, a standing patio heater are often portable and come full-sized, with a compartment generally located at the base for a fuel tank. Standing patio heater models typically operate at an average of 40,000 BTUs.

(Note: BTU stands for British Thermal Unit. One BTU can heat one pound of water by one degree Fahrenheit. To learn more about BTUs, see the "Patio Heater Size" section).
Features To Look For In Patio Heaters
Eco-Friendly: According to EPA standards, patio heaters feature a design that is energy-efficient, saving fuel which proves economical for customers.

Tipover Switch: When tilted past a certain angle, the tipover switch triggers an automatic shuts off.

Safety Switch Shut-Off: In emergency situations, a safety shut-off conveniently turns off the fuel reserve to prevent fire hazards.
How To Safely Maintain And Care For Your Patio Heater
To prevent fire hazards, place patio heaters away from flammable materials such as fabrics and foliage.

Make sure to turn of all gas valves while cleaning your heating unit.

When inclement weather approaches, safely cover and secure your heating unit with a furniture cover to protect it from outdoor elements. Moving it into a protected area will also help maintain its value.

Using a patio cover is recommened to safeguard your heating unit from critters and dust getting in the burner while not in use.

Removing the reflector is highly recommended when storing your heating unit because the reflector part can protrude. To avoid potential damage and to help aid in storage, simply unscrew the wing nuts that fasten the reflector part in place.

Cleaning Heaters Made With Stainless Steel: To remove water marks, use a stainless steel cleaner and a brush to remove stains that are more difficult to remove.

Cleaning Heaters With a Powder Coating: Because of the protective powder coating, these types of heaters require minimal maintenance. Simply wash with a mild soap and rinse with water.