Learn more about outdoor umbrella types, materials, sizes, and features.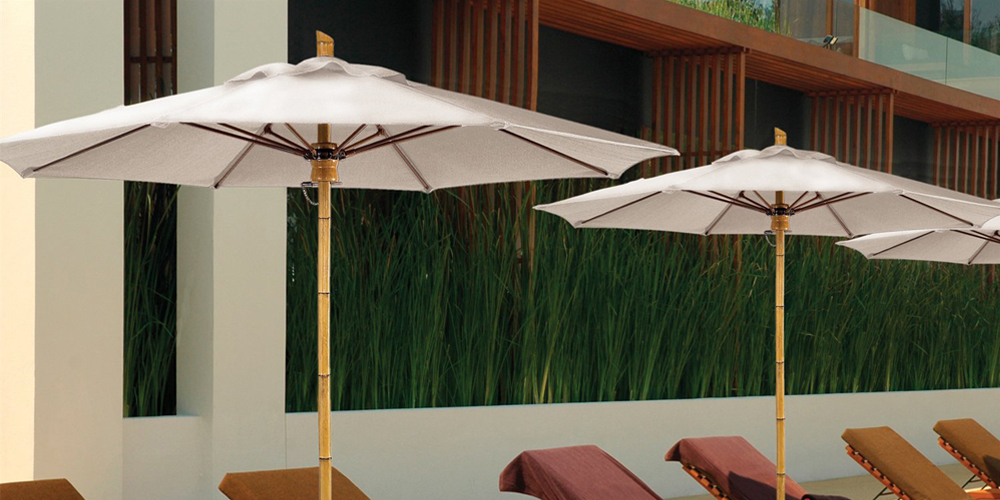 PatioLiving offers hundreds of umbrella options from dozens of reputable brands, meaning there's a perfect outdoor shade solution to meet any unique needs. When shopping for the right patio umbrella for your outdoor space, there are many factors to consider. Rib strength, canopy material, and opening mechanisms and many other variables will affect the functionality and appearance of your umbrella. Read on to learn more about choosing the right umbrella for you.
Market Umbrella Or Cantilevered Umbrella?
Patio umbrellas can be broken down into two general categories: market umbrellas and cantilevered umbrellas. Other categories, such as wall mount styles and shade sails are also available but are less common. Within the categories of market and cantilever, umbrellas can be further classified according to designations such as umbrellas with valances and beach umbrellas.
Market umbrellas are upright umbrellas with a straight pole at their center. These umbrellas can be used with a dining table or as a standalone shade solution. Market umbrellas will sometimes include a tilting mechanism at their tops, but their standard shape is straight and symmetrical.
Cantilever umbrellas have a sturdy base, curved pole, and canopy that is offset from the base of the umbrella. Cantilever umbrellas allow shading of lounge furniture arrangements or other difficult-to-shade areas, without the obstruction of an umbrella pole in the center of the space. These umbrellas are generally larger in size (with canopies averaging between 9'-13') though smaller cantilever umbrellas are also available.
What Size Umbrella Should I Shop For?
After choosing market or cantilever umbrella, the next step is to decide what size umbrella your outdoor space requires. The ideal umbrella size for your space can be determined by the size of your patio and by the relative size of your patio furniture. Ultimately, choosing the proper size comes down to a question of personal preference, but we have a few tips and guidelines to assist in your selection process:
Umbrella Canopy Size
Accommodations
5-Foot To 6-Foot Umbrella Canopy
7.5 Foot To 8.5-Foot Umbrella Canopy

9-Foot To 10-Foot Umbrella Canopy

11-Foot To 13-Foot Umbrella Canopy
Pair with 48-inch or more

Accommodates up to 10 chairs

Ideal poolside, shading multiple bistro sets
Shape of the umbrella should also be among the first determinations you make when shopping for an umbrella. Certain spaces, such as small balconies or lanais will require a thin rectangular or half-umbrella model. Though in the majority of cases, the shape of umbrella you choose, be it hexagonal or square, is a purely aesthetic choice.
What Material Of Umbrella Should I Shop For?
The umbrella canopy is the overhead material that directly protects and shades you from outdoor elements like UV rays and precipitation. The canopy also adds significant aesthetic value to your outdoor space. There are many different types of materials specially made to combat the harsh conditions of the outdoors, each with their own unique set of traits that will complement different lifestyles and locations:
The Frame
Common umbrella frame materials include wood, aluminum, and fiberglass. Each of these materials carries a unique aesthetic, and has both advantages and disadvantages.
Wood: Wood umbrella frames can include teak, eucalyptus, or other treated hardwoods. Frames made from wood materials are often favored for their natural, classic appearance. Many wood frames (such as those constructed from teak) are naturally repellant to moisture, insects, rot, and other damage, though their color may change over time with exposure to the elements if left untreated. Today, these umbrellas are available with tilt, pulley, or crank mechanisms, making them comparable in terms of functionality to aluminum and fiberglass options. Wood umbrellas are commonly treated with a protectant to maintain their integrity and appearance over time. Wood umbrellas are not as flexible as fiberglass umbrellas, making them poorly suited to extremely windy conditions. They are also not as strong and durable as aluminum umbrellas, and can snap much more easily.

Aluminum: While aluminum umbrellas may lack the same richness in appearance of wood umbrellas, there are many advantages to purchasing an aluminum umbrella. Aluminum is a lightweight, low-maintenance material that is available with most features in a variety of finish and color options. Highly durable, aluminum umbrellas are very unlikely to break or snap no matter the weather conditions, and aluminum umbrella frames are commonly treated with a powder coating that makes these umbrellas resistant to corrosion and other signs of wear. Aluminum umbrellas tend to be very affordable and long-lasting, making for a great investment in your outdoor living space.

Fiberglass: Fiberglass umbrellas are most popular in very windy environments. Fiberglass is a reinforced plastic that is made up of glass fibers embedded in resin. The unique material is highly pliable and bendy, meaning fiberglass umbrella ribs will not splinter or snap in most weather conditions. Fiberglass is considered up to 30% lighter and four times more durable than other umbrella models. These umbrellas tend to run more expensive, but their impressive durability can easily offset any heightened purchase costs. It is not uncommon to see umbrellas with aluminum poles and fiberglass ribs, a design that merges the best of two materials.
The Canopy
Umbrella canopies are almost always made of a fabric, cloth material. In recent years, advances in technology have allowed for highly durable canopy options that are resistant to moisture, sun damage, and other sources of wear. Canopies can typically be dyed a wide range of colors, including striped and other patterned designs.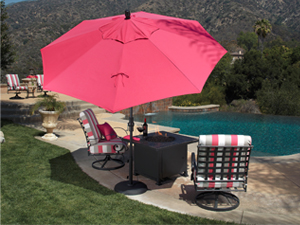 Sunbrella Fabric
Sunbrella is a popular line of outdoor-graded fabrics used by many manufacturers to create durable, top-quality canopies. Sunbrella brings together unmatched functionality with beautiful design for fabrics that are fade and wear resistant.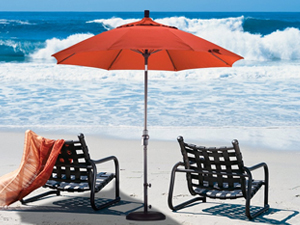 Polyester
Polyester fabric is naturally hydrophobic, meaning it dries faster than other materials. Ideal in rainy environments, polyester is durable, strong, and chemical-resistant. This material can be solution-dyed almost any color.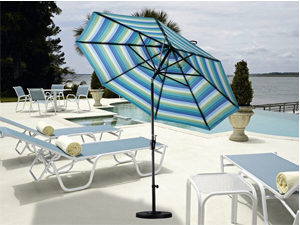 Acrylic
Acrylic is lightweight, soft, and can easily be dyed vibrant, colorful shades. This fabric resists shrinking or wrinkling and retains its shape well. Acrylic can be sensitive to high temperatures.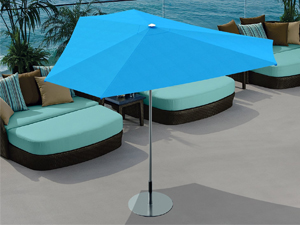 Olefin
Made from a polyolefin, Olefin is a synthetic material that offers strength and durability at an affordable price point. Olefin fabric resists fading, tears, stains, and mildew.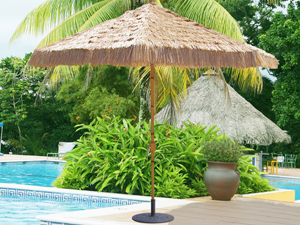 Thatch
Thatch refers to a traditional style of roof construction where straw and other natural materials are matted down to create an overhead covering. Thatch is primarily used for its tropical appearance, but the material is also rot and fade resistant. Thatch's unique ventilation properties also helps to create a cooler shaded space.
What Features Should I Look For In An Umbrella?
From pulley systems to tilting mechanisms, many umbrellas include features designed to expand the functionality of the umbrella while also making it easier and less labor-intensive to operate. Let the size of umbrella you're shopping for and what you are willing to spend guide you in determining what features to look for. Generally, a larger umbrella should have more features, as these umbrellas are heavier and more difficult to maneuver, while a small umbrella may be better suited to a simple, straightforward design.
Lift Mechanisms
One of three mechanisms is used to open an umbrella: a push system, a pulley system, or a crank system. Once opened, umbrellas will either need to be secured in the open position with a pin, or feature an integrated design that keeps the umbrella open automatically.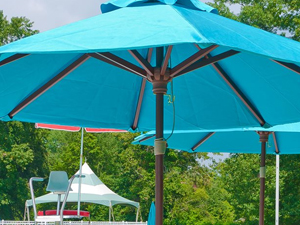 Push-Up
A push-open system works by simply pushing the umbrella upwards and open from the hub. A push system requires the most physical effort.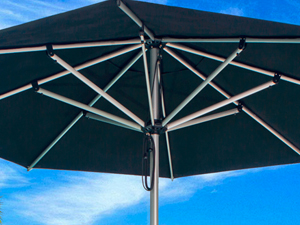 Pulley
The pulley system uses a wheel and rope to raise the umbrella canopy more easily than a push mechanism.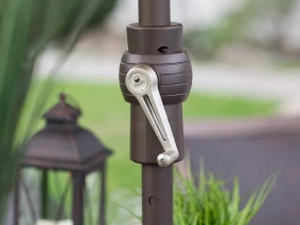 Crank
Umbrellas with a crank system require that the crank be turned in one direction to open the umbrella, and the opposite direction to close the umbrella. Crank systems are ideal for larger umbrellas and require minimal physical exertion.
Tilt Mechanisms
Some umbrellas feature a tilting mechanism, where the umbrella canopy can be tilted to accommodate the changing position of the sun. A tilt feature allows umbrellas to shade a maximum amount of space, no matter the time of day. Tilt mechanisms are operated by a push, crank, or collar system.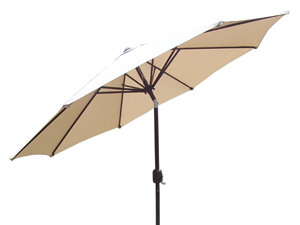 Push Method
In a push tilt system, the umbrella is manually maneuvered to a tilted position.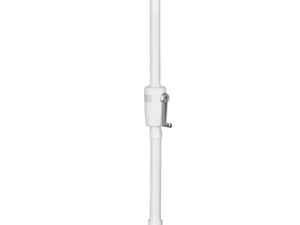 Crank
Crank tilt umbrellas always accompany a crank open system. To tilt these umbrellas, simply continue to operate the umbrella crank after the umbrella is fully opened to achieve a tilt.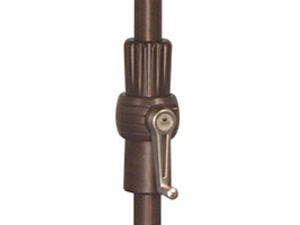 Collar
Collar tilt mechanisms operate independently from a crank system. Once the umbrella is fully opened, twist the collar to tilt the umbrella.


NOTE: NEVER close an umbrella before returning the canopy to the original upright position.

What Accessories Should I Purchase For My Umbrella?
Accessories can add eye-catching flair to your umbrella and also help to protect your umbrella from damage and everyday wear.
Umbrella Base

Most umbrellas should be stabilized with a sturdy umbrella base to maximize safety in windy or inclement weather. Some freestanding umbrellas, including umbrellas designed to be used with a dining table, include a base in their design, and will not require additional support. To determine what weight of base your umbrella requires, consult our sizing chart below:

Free Standing Use
Base Stand Weight
5-Foot To 6-Foot Umbrella
7.5 Foot To 8.5-Foot Umbrella
9-Foot To 10-Foot Umbrella
11-Foot To 13-Foot Umbrella

Umbrella Covers
Umbrella covers protect your investment from wear, sun discoloration, and other damage when not in use.

Lights
Certain umbrellas may be accessorized with lighting fixtures along the ribs or surrounding the pole. Lighting can provide greater visibility and ambiance to your patio after dark.

Replacement Parts

Pole
The umbrella pole is the upright, central component of the umbrella, that extends vertically from the ground to the filial. The pole determines the height of the overall umbrella and lends support and strength to the structure of the umbrella design. Umbrella poles can consist of two components connected together, or one single rod.
Ribs
The ribs are thin, pliable rods that support the fabric canopy. Umbrellas almost always include main ribs and support ribs. Main ribs extend from extend from the topmost section of the pole to the edges of the canopy, while support ribs are attached at their ends to the hub and the main ribs. As a general rule, an umbrella with more ribs will be stronger than one with less ribs.
Hub
Umbrellas generally include two hubs in their design that facilitate closing and opening the umbrella. The hub attached to the umbrella's support ribs is referred to as the runner hub. This hub moves up and down the umbrella pole as the umbrella is opened or closed. A second hub, the top hub, is fastened to the umbrella's main ribs, and does not move during opening or closing of the umbrella.

Finial
The finial is a decorative crowning piece at the top of the umbrella. This component helps to secure the canopy to the frame of the umbrella.
Taking Care Of Your Umbrella
Umbrellas represent a sizable investment, and should be well-cared for and maintained to preserve their high quality of craftsmanship and appearance. Be sure to comply with all listed care instructions for your umbrella model, as these instructions will vary. Store your umbrella in a dry, dark place during extended periods of non-use or in the wintertime. Keep your umbrella closed and covered by a durable cover whenever not in use.