Woodard Tucson Wrought Iron High Back Swivel Rocker Dining Arm Chair
WR1G0072
by Woodard from Tucson Mesh Collection
From $319.15
List Price
$491.00
35% OFF

FREE SHiPPING
Usually Ships within 4 to 6 Weeks
Special Order
Select Cushion Options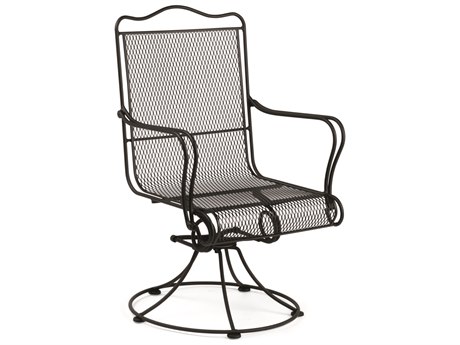 High Back Swivel Rocker Dining Chair - No Cushion
High Back Swivel Rocker Dining Arm w/ Seat Cushion
PRODUCT INFO
Product Specifications
Construction Quality
Residential
Dimension
24.3''W x 26''D x 36''H
Made In

Product Features
Made of extremely durable wrought iron material
Hand formed by skilled craftsmen to insure the strongest furniture in the industry
Arm handles are offered for comfort and style
Features swivel rocking motion for relaxation and comfort
MORE DOCUMENTS
TUCSON MESH COLLECTION
MORE DINING CHAIRS
PRODUCT REVIEWS
Comfort and elegance

Green Valley, AZ 11/4/2019

Great quality, easy to put together, looks wonderful!

Just what I had searched for.

Maple grove, MN 5/29/2017

We have had these for a couple of weeks now and they are the perfect thing for on our dock. The wind won't blow them around and they are very comfortable for sitting and relaxing at the lake. One of our neighbors is likly going to order a set.

Well made

Des Moines, IA 4/12/2017

Simply put...we could not be more satisfied. Great product. Great buying experience.

This is a great comfortable rocking swivel chair, just delightful!

Fort Wayne, IN 9/18/2016

We love the sand color in the Woodard, already have a set of the dark color! These hold up really well!!!!

Very comfy

Luxemburg, WI 6/19/2016

Very comfy

I ADORE this table!

Rock Hill, SC 10/27/2014

I looked at LOTS of chairs before buying two Tucson High Back Swivel Rockers, and I couldn't be happier with my choice. They are both sturdy and elegant--and since I had them custom painted, they match the shutters and door of my house and pull everything together nicely. The rocking and swiveling action is smooth and solid...making sitting in them a genuine pleasure.