Woodard Tucson Wrought Iron High Back Coil Spring Dining Arm Chair
WR1G0066
by Woodard from Tucson Mesh Collection
From $249.60
List Price
$384.00
35% OFF

FREE SHiPPING
Usually Ships within 1 to 2 Weeks
Special Order
Select Cushion Options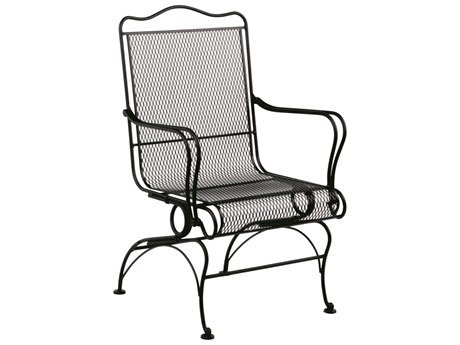 High Back Coil Spring Chair - No Cushion
High Back Coil Spring Chair w/ Seat Cushion
PRODUCT INFO
Product Specifications
Construction Quality
Residential
Dimension
24.3''W x 24''D x 38''H
Made In

Product Features
Made of extremely durable wrought iron material
Hand formed by skilled craftsmen to insure the strongest furniture in the industry
Arm handles are offered for comfort and style
Spring style chair
MORE DOCUMENTS
TUCSON MESH COLLECTION
MORE DINING CHAIRS
PRODUCT REVIEWS
very comfortable!

Woodbridge, VA 6/15/2019

see above

Solid investment

McArthur , CA 6/19/2018

Took a long time to get them, but worth it

Great coffee and conversation chairs!

Oviedo, FL 5/13/2017

A local coffee house used to have 2 of these chairs on their deck. We loved to sit in them with our drinks, but on day the business was sold and the chairs disappeared. Now that we have our own (and an espresso machine); life is good! My petite 5' 4" wife especially likes the fact that she can sit in these chairs and her feet touch the floor. The fact that you don't need cushions make them excellent for rainy and humid summer weather.

Well made

Des Moines, IA 4/12/2017

Sturdy, comfortable, truly a timeless piece.

Great buy! Ordered from Canada.

Mississauga, ON 2/20/2017

What a great wrought iron chair and at a great price. We are from Canada and even with the exchange rate, taxes, and getting these across the border, we saved a great deal of money. These are a well built chair with a great warranty. We look forward to many, many years of use from these.

Love this chair!

Baton Rouge, LA 10/15/2016

Great quality and very comfortable. Really love the rocking quality of the coil spring. Would certainly purchase again!

Excellent Quality at a Great Price

Brighton, MA 8/3/2016

I like the comfort afforded by the rocking motion.

Most comfortable, Best in class, Lawn chairs!!

Halton City, TX 6/19/2016

These chairs are great, and I love relaxing in them. The best thing about them, is my Labs can't chew them up. I am sure they will last forever, and I will pass them down, for my family to enjoy. I will be ordering more, when I get in my new house, next year. Thank you, so much, W.D. Dumas

Comfort and Quality

St. Clair Shores, MI 4/4/2016

I absolutely love sitting in these chairs. Very comfortable, even without the cushions. The weight of the chair to me is the highlight-- heavy duty and will now blow away. Looking forward to having this set for many years to come.