Woodard Wrought Iron 72 x 42 Oval 8 Spoke Table with Umbrella Hole
WR190306 + Wrought Iron Tables Collection by + Woodard
From $540.80
List Price $832.00 Save $291.20

35.00% OFF
FREE SHiPPING
+ Shipping Info
Usually Ships within 1 to 2 Weeks
Special Order
Select Shape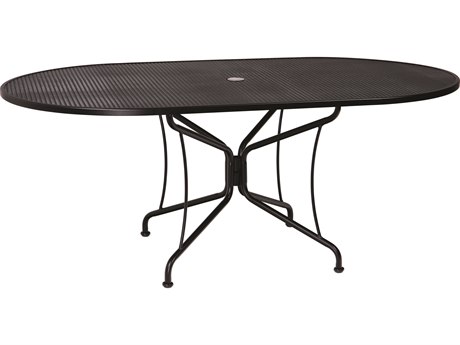 72'' x 42'' Oval Umbrella Table
54'' x 42'' Oval Umbrella Table
SELECT PICTURED COLORS
Shopping for a client? Trade Program
PRODUCT INFO
Product Specifications
Construction Quality
Commercial
Dimension
72''W x 42''D x 29''H
Umbrella Hole Size
1.5 Inches
Made In

WROUGHT IRON TABLES COLLECTION
MORE DINING TABLES
PRODUCT REVIEWS
great size table

Stockton, CA 3/22/2019 12:00:00 AM

I have a couple of the round tables but wanted to add a larger table for larger groups, this one is perfect!

Excellent design for a good price

SOUTHBOROUGH, MA 8/31/2018 12:00:00 AM

The table came well packaged, appears to be good quality. Rounded corners and inward curved legs provide excellent sitting

Great Price, Average Table

Bouilder, CO 8/15/2018 12:00:00 AM

A good value for the money, but a little disappointed in the spray painted finish vs powder coating. Also, a glitch in my case was that the freight company lost it for 10 days in Denver.

Quality Table, Great Buy

Sammamish, WA 7/2/2018 12:00:00 AM

I ordered this table for my vacation home because I have had one like it at my primary home and (except for some recent, and to be expected, fading of the paint) it has lasted in very good condition for 20 years. This table arrived by freight and was well packed and protected within packaging to avoid damage. It took me about ten minutes to attach the legs to the table and stand it up on my patio. As with all Woodard products, I expect to be using this for many years. NOTE: I also have some Woodard wrought iron barrel chairs, some side tables, and a bench that a neighbor had placed at her curb for disposal, but agreed to give to me if I'd haul away myself. (I offered payment, but she refused.) My neighbor had used them for several years - after inheriting them from a grandmother who had also used them for decades -, but she didn't like the style and the paint had faded and flaked off in some spots which had developed rust. After sanding down and repainting those chairs, they appeared brand new and my family and I have enjoyed using them for 15 years! Woodard wrought iron lasts and lasts.

Great buy

Brooklyn Park, MN 6/19/2018 12:00:00 AM

I was very happy with the design and Khaki color I picked out. It matches my chairs and umbrella perfectly.

Great buy

Brooklyn Park, MN 6/19/2018 12:00:00 AM

I was very happy with the design and Khaki color I picked out. It matches my chairs and umbrella perfectly.

Great product

North Wales Pa 6/24/2017 12:00:00 AM

Purchased the product years ago, the table has held up great! I come to this site looking for refinishing products since the table has sat out in the elements for so long. I would like to clean it up and get a fresh coat of paint. If anyone is considering buying this product and is on the fence, I say go for it, you will not be disappointed.

Sturdy table

Kinnelon, NJ 5/29/2017 12:00:00 AM

Replaced an aluminum glass top table that looked like wrought iron for the real thing. Should have gotten this to begin with! It's beautiful and goes well with my existing chairs (although I plan to gradually replace them with Woodard matching wrought iron chairs). Stays sturdy on a windy deck and the top is better than glass. Can't say yet how well it will hold up in the northeast's winter though!

Excellent Buy

Maple grove, MN 5/29/2017 12:00:00 AM

We have had these for a couple of weeks now and they are the perfect thing for on our dock. The wind won't blow them around and they are very comfortable for sitting and relaxing at the lake. One of our neighbors is likly going to order a set.