Woodard Quick Ship Mesh Wrought Iron 30 Round Dining Table in Textured Black
WR280134N.92 + Wrought Iron Cafe Series Collection by + Woodard
From $169.00
List Price
$260.00
35.00% OFF
FREE SHiPPING
Usually Ships within 1 to 5 Business Days
Special Order
Select Table Top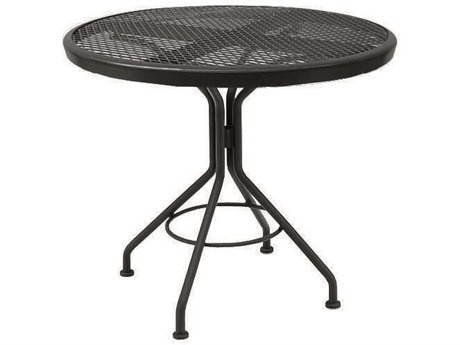 30'' Round Bistro Table With Black Mesh Top
30'' Round Bistro Table - Custom
PRODUCT INFO
Product Specifications
Construction Quality
Commercial
Made In

Product Features
Made of extremely durable wrought iron material
Hand formed by skilled craftsmen to insure the strongest furniture in the industry
Round slick shape
Metal table top
MORE DOCUMENTS
WROUGHT IRON CAFE SERIES COLLECTION
MORE DINING TABLES
PRODUCT REVIEWS
great

Lawnside, NJ 6/29/2018 12:00:00 AM

good

quality products

Cincinnati, OH 8/28/2017 12:00:00 AM

everything was great

Love

Winter Haven, FL 4/8/2017 12:00:00 AM

Love the patio table.... restaurant quality ... very well made, sturdy!

Great Price

Wakefield, RI 7/30/2016 12:00:00 AM

Exceeded our expectations.

LLlLL

Junction City, KY 4/27/2016 12:00:00 AM

This small table was perfect for the space I have and works great with the chairs.

Great furniture ---- great quality

Dutton, VA 7/6/2015 12:00:00 AM

The Woodard quality cannot be beat. Heavy and well made. PatioLiving did everything I asked and would purchase from them again.