Woodard Constantine Wrought Iron Coil Spring Dining Arm Chair
WR130066
by Woodard from Constantine Collection
From $165.10
List Price
$254.00
35% OFF

FREE SHiPPING
Related Cushions
Usually Ships within 4 to 6 Weeks
Special Order
Select Cushion Options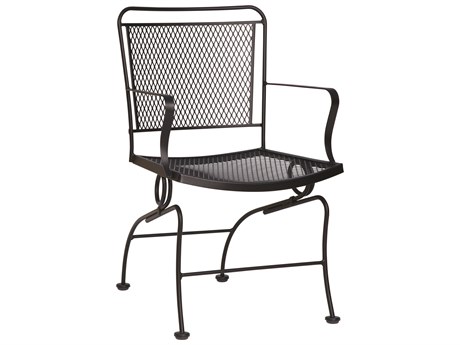 Spring Dining Chair - No Cushion
Coil Spring Dining Chair w/ Seat Cushion
PRODUCT INFO
Product Specifications
Construction Quality
Residential
Dimension
21''W x 24.3''D x 33.5''H
Made In

Product Features
Made of extremely durable wrought iron material
Hand formed by skilled craftsmen to insure the strongest furniture in the industry
Arm handles are offered for comfort and style
Spring style chair
MORE DOCUMENTS
CONSTANTINE COLLECTION
MORE DINING CHAIRS
PRODUCT REVIEWS
Quality product

Vienna, VA 9/27/2019

High quality product arrived fully assembled and well packed. Rocking mechanism is wonderful and just what we wanted. Works as a dining chair or a casual chair on my deck and patio.

Quality Product, Great Buy

Sammamish, WA 7/2/2018

I purchased four of these chairs with a patio dining table for my vacation home after enjoying a set of Woodard spring chairs and patio dining table at my primary home for 20 years. The chairs shipped within 2-3 weeks and arrived at my curb by freight. They were well packaged (2 to a box) inside and out to avoid damage during shipment. (In my case, there was slight damage to the corner of one box, but no damage inside.) With the spring coil and slightly curved back and seat, these are very comfortable for dining and for relaxing around the table conversing after dinner. As with all Woodard wrought iron, I expect these to last for many years. Besides the 20 year old patio dining set I previously mentioned, I also have a set of Woodard wrought iron barrel chairs, a bench, and side tables which were given to me by a friend who'd inherited them from a grandmother. Before I received them, they'd been used for 40 years. I sanded to rid them of rust and flaking paint and then repainted them and my family has now been enjoying using them around a fire pit for another 15! Woodard makes excellent products well worth the extra spent compared to patio furniture available at home hardware stores and sure to last much longer. And at Patio Living with free shipping, the prices cannot be beat. Very happy customer.

Most Comfortable Outdoor Dining Chair

Emeryville, CA 5/7/2017

I was given a pair of similar chairs with the same spring action and searched all over to find 2 more. These cost twice as much, but are totally worth it, as the design and comfort is top notch. I hate sitting, but the spring back really makes it work. Great quality too!

Comfortable and stylish

Carmichael, CA 3/19/2017

Very pleased with the quality and workmanship!

Good buy, but not as comfortable as I had hoped

Golden, CO 7/31/2016

Years ago I got very similar wrought iron furniture on line and the chairs were surprisingly comfortable. I had hoped for the same with this chair. But, the backs are a bit low and seem very straight to me so it just doesn't have that same feeling of comfort. The fact that it rocks is nice though. It is certainly fine for a sitting outside to eat, but I wouldn't want to sit out all day in it. The quality seems good for the price and they look nice enough so no real surprises with that.