Woodard Briarwood Wrought Iron High Back Spring Lounge Chair
WR400018
by Woodard from Briarwood Collection
From $310.70
List Price
$478.00
35% OFF

FREE SHiPPING
Usually Ships within 4 to 6 Weeks
Special Order
Select Cushion Options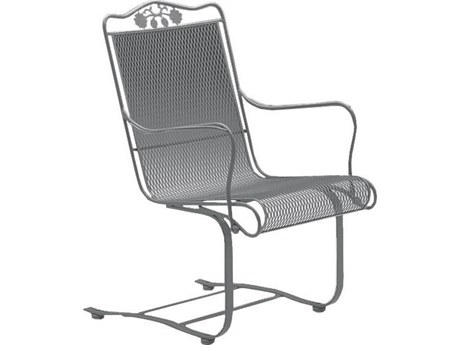 High Back Spring Base Chair - No Cushion
High Back Spring Base Chair w/ Seat & Back Cushion

High Back Spring Base Chair w/ Seat Cushion
PRODUCT INFO
Product Specifications
Construction Quality
Residential
Dimension
27''W x 27.8''D x 38.9''H
Made In

Product Features
Made of extremely durable wrought iron material
Hand formed by skilled craftsmen to insure the strongest furniture in the industry
Arm handles are offered for comfort and style
Spring style chair
MORE DOCUMENTS
ADDITIONAL FEATURES
Briarwood Collection by Woodard The Briarwood Collection by Woodard is a collection of fine wrought iron furniture with both cushioned and non-cushioned options to suit your needs. Wrought iron is a heavy duty material with unmatched strength and durability. It is ideal for homes with high-use patios or homes with windy climates. Wrought iron is prone to rusting, however this can be prevented with a powder coating and rust protectants. The Briarwood Collection is a beautiful collection of outdoor furniture which includes dining sets, lounge sets, bar stools, chaise lounges, dining chairs, lounge chairs, and benches. Cushions are available in a variety of colors and patterns to fit your personal style. The Briarwood Collection features an ornate sunflower design for a classic and elegant look in your own backyard.
BRIARWOOD COLLECTION
MORE LOUNGE CHAIRS
PRODUCT REVIEWS
Great buy

Barnstable , MA 4/19/2020

Beautiful furniture

Great Chair/Great Price

Granbury, TX 4/2/2020

I have many pieces of this outdoor furniture. Some that are inherited are at least 65 years old and still wonderful! Luxe Decor gave me the best price that I could find. I am very happy with my experience!

Great chairs

Monticello, KY 11/21/2019

Good and heavy. Very comfortable.

Love The Spring Chairs

Alpine, TX 7/6/2019

We bought two of these chairs about 25+ years ago and love them. They have held up very nicely and we had them repainted so they look better than new. This year we ordered two more and I must say that the quality has diminished some since our original chairs were made. The metal is thinner and the cut outs are thinner and not so nicely rounded at the edges. I took pictures of both chairs where the arms connect to the seat of the chair but this review format does not allow for pictures to be added. All in all, we are glad to have two more chairs.

Great Patio Furniture by Woodard

Warren, MI 6/29/2019

I bought this chair to replace one a bought years ago, liked 40 years ago. I was surprised to find it on line at PatioLiving. It arrived undamaged and is an exact replacement for my old broken spring chair, which is part of my Woodard collection patio group.. The price and delivery was just as advertised on line.at PatioLiving... I am very pleased with my purchase - price, delivery & quality as advertised!!!

Excellent quality.

Columbus , NE 6/21/2019

I purchased two spring base chairs to coordinate with a set of Woodard Briarwood pieces from the 1950's. I was hoping the quality would match that of the old set. I was not disappointed. These chairs are as heavy and well-made as those from the 1950's. The decorative flowers are stamped rather than molded as the old were, but that is minor and hardly noticeable. There is a surprisingly good bounce with the chair.

Awesome Accent

Tallahassee, FL 1/3/2019

Very pleased with this chair and the glider we purchased. There were no surprises, it was exactly what we expected and the highest of quality.

Love these bouncy chairs

Chattanooga, TN 6/20/2018

I grew up with my parents' wrought iron bouncy chairs on the patio, and always wanted some of my own. My parents still have theirs, and we all still jockey to get to sit in one when we gather. These chairs are fun to sit in, especially for fidgety people like me, and are much more comfortable than they may seem. The pewter finish I chose is very attractive. My only reservations about my new bouncy chairs are about the modern cost-cutting measures: the metal mesh is a thinner gauge than on my parents' old chairs, and the ornamental flowers are stamped from flat metal, instead of being artistically pounded and crafted by hand. Otherwise, I would give these chairs 5 stars.

Not as substantial as I thought it'd be...

Bend, OR 7/16/2017

This is a pretty chair. I ordered it in white. I'm pleased with the way it looks but it's not very springy. I can't get a really good rock out of it, & it's also quite shallow, especially if you add a pillow for comfort. Hopefully over time it will get a little more relaxed, but I still haven't found the perfect spring back chair. I'm not going to return it but I won't purchase another one like it. Again, it is very pretty. The white is completely opaque and looks quite nice.

Wrought Iron Spring Base Chairs and Table

Herndon, VA 6/1/2017

The quality and workmanship of these pieces are high end. I am very pleased with them and look forward using them for many years.

So so comfortable

Redding, CA 2/16/2017

They sit so well

Great Buy!

Houston, TX 11/23/2016

Super comfortable and the color I ordered, "Twilight" is very attractive.

easy order and delivery.

Toledo, OH 6/12/2016

We have been purchasing Briarwood for over 25years. the craftsmanship doesn't seem quite the same, pattern not as deeply etched and the round foot pads make lots of noise as people sit in the chairs.

great quality

6/15/2015

Great solid patio chairs. I have had the same chair for over 25 years and they still look great!