JULY 4TH SALE
EXTRA 10% OFF
code
JULY4
*some brand restrictions apply
Tropitone Trace Aluminum 9' Hexagon Pulley Lift Umbrella
TPRH009PS
by Tropitone from Umbrellas & Bases Collection
From $1,475.22
List Price
$2,107.46
30% OFF

FREE SHiPPING
Usually Ships within 3 to 5 Weeks
Special Order
Umbrella Base
Select Umbrella Base
Cement Filled Aluminum 20''Wide Round Umbrella Base Textured Aged Bronze ($352.71)

Cement Filled Aluminum 20''Wide Round Umbrella Base Smooth Aluminum Metallic ($352.71)

Cement Filled Aluminum 20''Wide Round Umbrella Base Smooth Almond Silk ($352.71)

Cement Filled Aluminum 20''Wide Round Umbrella Base Smooth Bronze Mica ($352.71)

Cement Filled Aluminum 20''Wide Round Umbrella Base Espresso ($352.71)

Cement Filled Aluminum 20''Wide Round Umbrella Base Textured Graphite ($352.71)

Cement Filled Aluminum 20''Wide Round Umbrella Base Textured Greco ($352.71)

Cement Filled Aluminum 20''Wide Round Umbrella Base Kaffee ($352.71)

Cement Filled Aluminum 20''Wide Round Umbrella Base Textured Moab ($352.71)

Cement Filled Aluminum 20''Wide Round Umbrella Base Textured Mocha ($352.71)

Cement Filled Aluminum 20''Wide Round Umbrella Base Nickel ($352.71)

Cement Filled Aluminum 20''Wide Round Umbrella Base Textured Obsidian ($352.71)

Cement Filled Aluminum 20''Wide Round Umbrella Base Smooth Parchment ($352.71)

Cement Filled Aluminum 20''Wide Round Umbrella Base Textured Rich Earth ($352.71)

Cement Filled Aluminum 20''Wide Round Umbrella Base Textured Shell ($352.71)

Cement Filled Aluminum 20''Wide Round Umbrella Base Smooth Snow ($352.71)

Cement Filled Aluminum 20''Wide Round Umbrella Base Textured Sonora ($352.71)

Cement Filled Aluminum 20''Wide Round Umbrella Base Titanium ($352.71)

Cement Filled Aluminum 20''Wide Round Umbrella Base Woodland Green ($352.71)

24'' 82lb Square Steel Plate 15'' Sleeve 1.5'' Pole Base Textured Aged Bronze ($573.85)

24'' 82lb Square Steel Plate 15'' Sleeve 1.5'' Pole Base Smooth Aluminum Metallic ($573.85)

24'' 82lb Square Steel Plate 15'' Sleeve 1.5'' Pole Base Smooth Almond Silk ($573.85)

24'' 82lb Square Steel Plate 15'' Sleeve 1.5'' Pole Base Smooth Bronze Mica ($573.85)

24'' 82lb Square Steel Plate 15'' Sleeve 1.5'' Pole Base Espresso ($573.85)

24'' 82lb Square Steel Plate 15'' Sleeve 1.5'' Pole Base Textured Graphite ($573.85)

24'' 82lb Square Steel Plate 15'' Sleeve 1.5'' Pole Base Textured Greco ($573.85)

24'' 82lb Square Steel Plate 15'' Sleeve 1.5'' Pole Base Kaffee ($573.85)

24'' 82lb Square Steel Plate 15'' Sleeve 1.5'' Pole Base Textured Moab ($573.85)

24'' 82lb Square Steel Plate 15'' Sleeve 1.5'' Pole Base Textured Mocha ($573.85)

24'' 82lb Square Steel Plate 15'' Sleeve 1.5'' Pole Base Nickel ($573.85)

24'' 82lb Square Steel Plate 15'' Sleeve 1.5'' Pole Base Textured Obsidian ($573.85)

24'' 82lb Square Steel Plate 15'' Sleeve 1.5'' Pole Base Smooth Parchment ($573.85)

24'' 82lb Square Steel Plate 15'' Sleeve 1.5'' Pole Base Textured Rich Earth ($573.85)

24'' 82lb Square Steel Plate 15'' Sleeve 1.5'' Pole Base Textured Shell ($573.85)

24'' 82lb Square Steel Plate 15'' Sleeve 1.5'' Pole Base Smooth Snow ($573.85)

24'' 82lb Square Steel Plate 15'' Sleeve 1.5'' Pole Base Textured Sonora ($573.85)

24'' 82lb Square Steel Plate 15'' Sleeve 1.5'' Pole Base Titanium ($573.85)

24'' 82lb Square Steel Plate 15'' Sleeve 1.5'' Pole Base Woodland Green ($573.85)

24'' 61lb Steel Plate 15'' Sleeve 1.5'' Pole Base Textured Aged Bronze ($537.46)

24'' 61lb Steel Plate 15'' Sleeve 1.5'' Pole Base Smooth Aluminum Metallic ($537.46)

24'' 61lb Steel Plate 15'' Sleeve 1.5'' Pole Base Smooth Almond Silk ($537.46)

24'' 61lb Steel Plate 15'' Sleeve 1.5'' Pole Base Smooth Bronze Mica ($537.46)

24'' 61lb Steel Plate 15'' Sleeve 1.5'' Pole Base Espresso ($537.46)

24'' 61lb Steel Plate 15'' Sleeve 1.5'' Pole Base Textured Graphite ($537.46)

24'' 61lb Steel Plate 15'' Sleeve 1.5'' Pole Base Textured Greco ($537.46)

24'' 61lb Steel Plate 15'' Sleeve 1.5'' Pole Base Kaffee ($537.46)

24'' 61lb Steel Plate 15'' Sleeve 1.5'' Pole Base Textured Moab ($537.46)

24'' 61lb Steel Plate 15'' Sleeve 1.5'' Pole Base Textured Mocha ($537.46)

24'' 61lb Steel Plate 15'' Sleeve 1.5'' Pole Base Nickel ($537.46)

24'' 61lb Steel Plate 15'' Sleeve 1.5'' Pole Base Textured Obsidian ($537.46)

24'' 61lb Steel Plate 15'' Sleeve 1.5'' Pole Base Smooth Parchment ($537.46)

24'' 61lb Steel Plate 15'' Sleeve 1.5'' Pole Base Textured Rich Earth ($537.46)

24'' 61lb Steel Plate 15'' Sleeve 1.5'' Pole Base Textured Shell ($537.46)

24'' 61lb Steel Plate 15'' Sleeve 1.5'' Pole Base Smooth Snow ($537.46)

24'' 61lb Steel Plate 15'' Sleeve 1.5'' Pole Base Textured Sonora ($537.46)

24'' 61lb Steel Plate 15'' Sleeve 1.5'' Pole Base Titanium ($537.46)

24'' 61lb Steel Plate 15'' Sleeve 1.5'' Pole Base Woodland Green ($537.46)

24'' 82lb Square Steel Plate Wheels 15'' Sleeve 2.5'' Pole Base Textured Aged Bronze ($685.82)

24'' 82lb Square Steel Plate Wheels 15'' Sleeve 2.5'' Pole Base Smooth Aluminum Metallic ($685.82)

24'' 82lb Square Steel Plate Wheels 15'' Sleeve 2.5'' Pole Base Smooth Almond Silk ($685.82)

24'' 82lb Square Steel Plate Wheels 15'' Sleeve 2.5'' Pole Base Smooth Bronze Mica ($685.82)

24'' 82lb Square Steel Plate Wheels 15'' Sleeve 2.5'' Pole Base Espresso ($685.82)

24'' 82lb Square Steel Plate Wheels 15'' Sleeve 2.5'' Pole Base Textured Graphite ($685.82)

24'' 82lb Square Steel Plate Wheels 15'' Sleeve 2.5'' Pole Base Textured Greco ($685.82)

24'' 82lb Square Steel Plate Wheels 15'' Sleeve 2.5'' Pole Base Kaffee ($685.82)

24'' 82lb Square Steel Plate Wheels 15'' Sleeve 2.5'' Pole Base Textured Moab ($685.82)

24'' 82lb Square Steel Plate Wheels 15'' Sleeve 2.5'' Pole Base Textured Mocha ($685.82)

24'' 82lb Square Steel Plate Wheels 15'' Sleeve 2.5'' Pole Base Nickel ($685.82)

24'' 82lb Square Steel Plate Wheels 15'' Sleeve 2.5'' Pole Base Textured Obsidian ($685.82)

24'' 82lb Square Steel Plate Wheels 15'' Sleeve 2.5'' Pole Base Smooth Parchment ($685.82)

24'' 82lb Square Steel Plate Wheels 15'' Sleeve 2.5'' Pole Base Textured Rich Earth ($685.82)

24'' 82lb Square Steel Plate Wheels 15'' Sleeve 2.5'' Pole Base Textured Shell ($685.82)

24'' 82lb Square Steel Plate Wheels 15'' Sleeve 2.5'' Pole Base Smooth Snow ($685.82)

24'' 82lb Square Steel Plate Wheels 15'' Sleeve 2.5'' Pole Base Textured Sonora ($685.82)

24'' 82lb Square Steel Plate Wheels 15'' Sleeve 2.5'' Pole Base Titanium ($685.82)

24'' 82lb Square Steel Plate Wheels 15'' Sleeve 2.5'' Pole Base Woodland Green ($685.82)

Cement Filled Aluminum 24''Wide Round Base Textured Aged Bronze ($473.08)

Cement Filled Aluminum 24''Wide Round Base Smooth Aluminum Metallic ($473.08)

Cement Filled Aluminum 24''Wide Round Base Smooth Almond Silk ($473.08)

Cement Filled Aluminum 24''Wide Round Base Smooth Bronze Mica ($473.08)

Cement Filled Aluminum 24''Wide Round Base Espresso ($473.08)

Cement Filled Aluminum 24''Wide Round Base Textured Graphite ($473.08)

Cement Filled Aluminum 24''Wide Round Base Textured Greco ($473.08)

Cement Filled Aluminum 24''Wide Round Base Kaffee ($473.08)

Cement Filled Aluminum 24''Wide Round Base Textured Moab ($473.08)

Cement Filled Aluminum 24''Wide Round Base Textured Mocha ($473.08)

Cement Filled Aluminum 24''Wide Round Base Nickel ($473.08)

Cement Filled Aluminum 24''Wide Round Base Textured Obsidian ($473.08)

Cement Filled Aluminum 24''Wide Round Base Smooth Parchment ($473.08)

Cement Filled Aluminum 24''Wide Round Base Textured Rich Earth ($473.08)

Cement Filled Aluminum 24''Wide Round Base Textured Shell ($473.08)

Cement Filled Aluminum 24''Wide Round Base Smooth Snow ($473.08)

Cement Filled Aluminum 24''Wide Round Base Textured Sonora ($473.08)

Cement Filled Aluminum 24''Wide Round Base Titanium ($473.08)

Cement Filled Aluminum 24''Wide Round Base Woodland Green ($473.08)

24'' 82lb Square Steel Plate Wheels 15'' Sleeve 1.5'' Pole Base Textured Aged Bronze ($706.82)

24'' 82lb Square Steel Plate Wheels 15'' Sleeve 1.5'' Pole Base Smooth Aluminum Metallic ($706.82)

24'' 82lb Square Steel Plate Wheels 15'' Sleeve 1.5'' Pole Base Smooth Almond Silk ($706.82)

24'' 82lb Square Steel Plate Wheels 15'' Sleeve 1.5'' Pole Base Smooth Bronze Mica ($706.82)

24'' 82lb Square Steel Plate Wheels 15'' Sleeve 1.5'' Pole Base Espresso ($706.82)

24'' 82lb Square Steel Plate Wheels 15'' Sleeve 1.5'' Pole Base Textured Graphite ($706.82)

24'' 82lb Square Steel Plate Wheels 15'' Sleeve 1.5'' Pole Base Textured Greco ($706.82)

24'' 82lb Square Steel Plate Wheels 15'' Sleeve 1.5'' Pole Base Kaffee ($706.82)

24'' 82lb Square Steel Plate Wheels 15'' Sleeve 1.5'' Pole Base Textured Moab ($706.82)

24'' 82lb Square Steel Plate Wheels 15'' Sleeve 1.5'' Pole Base Textured Mocha ($706.82)

24'' 82lb Square Steel Plate Wheels 15'' Sleeve 1.5'' Pole Base Nickel ($706.82)

24'' 82lb Square Steel Plate Wheels 15'' Sleeve 1.5'' Pole Base Textured Obsidian ($706.82)

24'' 82lb Square Steel Plate Wheels 15'' Sleeve 1.5'' Pole Base Smooth Parchment ($706.82)

24'' 82lb Square Steel Plate Wheels 15'' Sleeve 1.5'' Pole Base Textured Rich Earth ($706.82)

24'' 82lb Square Steel Plate Wheels 15'' Sleeve 1.5'' Pole Base Textured Shell ($706.82)

24'' 82lb Square Steel Plate Wheels 15'' Sleeve 1.5'' Pole Base Smooth Snow ($706.82)

24'' 82lb Square Steel Plate Wheels 15'' Sleeve 1.5'' Pole Base Textured Sonora ($706.82)

24'' 82lb Square Steel Plate Wheels 15'' Sleeve 1.5'' Pole Base Titanium ($706.82)

24'' 82lb Square Steel Plate Wheels 15'' Sleeve 1.5'' Pole Base Woodland Green ($706.82)

24'' Round 135lb Cement Filled Base w/ Wheels Textured Aged Bronze ($690.03)

24'' Round 135lb Cement Filled Base w/ Wheels Smooth Aluminum Metallic ($690.03)

24'' Round 135lb Cement Filled Base w/ Wheels Smooth Almond Silk ($690.03)

24'' Round 135lb Cement Filled Base w/ Wheels Smooth Bronze Mica ($690.03)

24'' Round 135lb Cement Filled Base w/ Wheels Espresso ($690.03)

24'' Round 135lb Cement Filled Base w/ Wheels Textured Graphite ($690.03)

24'' Round 135lb Cement Filled Base w/ Wheels Textured Greco ($690.03)

24'' Round 135lb Cement Filled Base w/ Wheels Kaffee ($690.03)

24'' Round 135lb Cement Filled Base w/ Wheels Textured Moab ($690.03)

24'' Round 135lb Cement Filled Base w/ Wheels Textured Mocha ($690.03)

24'' Round 135lb Cement Filled Base w/ Wheels Nickel ($690.03)

24'' Round 135lb Cement Filled Base w/ Wheels Textured Obsidian ($690.03)

24'' Round 135lb Cement Filled Base w/ Wheels Smooth Parchment ($690.03)

24'' Round 135lb Cement Filled Base w/ Wheels Textured Rich Earth ($690.03)

24'' Round 135lb Cement Filled Base w/ Wheels Textured Shell ($690.03)

24'' Round 135lb Cement Filled Base w/ Wheels Smooth Snow ($690.03)

24'' Round 135lb Cement Filled Base w/ Wheels Textured Sonora ($690.03)

24'' Round 135lb Cement Filled Base w/ Wheels Titanium ($690.03)

24'' Round 135lb Cement Filled Base w/ Wheels Woodland Green ($690.03)

24'' 82lb Square Steel Plate Wheels 15'' Sleeve 2'' Pole Base Textured Aged Bronze ($706.82)

24'' 82lb Square Steel Plate Wheels 15'' Sleeve 2'' Pole Base Smooth Aluminum Metallic ($706.82)

24'' 82lb Square Steel Plate Wheels 15'' Sleeve 2'' Pole Base Smooth Almond Silk ($706.82)

24'' 82lb Square Steel Plate Wheels 15'' Sleeve 2'' Pole Base Smooth Bronze Mica ($706.82)

24'' 82lb Square Steel Plate Wheels 15'' Sleeve 2'' Pole Base Espresso ($706.82)

24'' 82lb Square Steel Plate Wheels 15'' Sleeve 2'' Pole Base Textured Graphite ($706.82)

24'' 82lb Square Steel Plate Wheels 15'' Sleeve 2'' Pole Base Textured Greco ($706.82)

24'' 82lb Square Steel Plate Wheels 15'' Sleeve 2'' Pole Base Kaffee ($706.82)

24'' 82lb Square Steel Plate Wheels 15'' Sleeve 2'' Pole Base Textured Moab ($706.82)

24'' 82lb Square Steel Plate Wheels 15'' Sleeve 2'' Pole Base Textured Mocha ($706.82)

24'' 82lb Square Steel Plate Wheels 15'' Sleeve 2'' Pole Base Nickel ($706.82)

24'' 82lb Square Steel Plate Wheels 15'' Sleeve 2'' Pole Base Textured Obsidian ($706.82)

24'' 82lb Square Steel Plate Wheels 15'' Sleeve 2'' Pole Base Smooth Parchment ($706.82)

24'' 82lb Square Steel Plate Wheels 15'' Sleeve 2'' Pole Base Textured Rich Earth ($706.82)

24'' 82lb Square Steel Plate Wheels 15'' Sleeve 2'' Pole Base Textured Shell ($706.82)

24'' 82lb Square Steel Plate Wheels 15'' Sleeve 2'' Pole Base Smooth Snow ($706.82)

24'' 82lb Square Steel Plate Wheels 15'' Sleeve 2'' Pole Base Textured Sonora ($706.82)

24'' 82lb Square Steel Plate Wheels 15'' Sleeve 2'' Pole Base Titanium ($706.82)

24'' 82lb Square Steel Plate Wheels 15'' Sleeve 2'' Pole Base Woodland Green ($706.82)

24'' 135lb Round Cement Filled Base w/ Wheels Textured Aged Bronze ($690.03)

24'' 135lb Round Cement Filled Base w/ Wheels Smooth Aluminum Metallic ($690.03)

24'' 135lb Round Cement Filled Base w/ Wheels Smooth Almond Silk ($690.03)

24'' 135lb Round Cement Filled Base w/ Wheels Smooth Bronze Mica ($690.03)

24'' 135lb Round Cement Filled Base w/ Wheels Espresso ($690.03)

24'' 135lb Round Cement Filled Base w/ Wheels Textured Graphite ($690.03)

24'' 135lb Round Cement Filled Base w/ Wheels Textured Greco ($690.03)

24'' 135lb Round Cement Filled Base w/ Wheels Kaffee ($690.03)

24'' 135lb Round Cement Filled Base w/ Wheels Textured Moab ($690.03)

24'' 135lb Round Cement Filled Base w/ Wheels Textured Mocha ($690.03)

24'' 135lb Round Cement Filled Base w/ Wheels Nickel ($690.03)

24'' 135lb Round Cement Filled Base w/ Wheels Textured Obsidian ($690.03)

24'' 135lb Round Cement Filled Base w/ Wheels Smooth Parchment ($690.03)

24'' 135lb Round Cement Filled Base w/ Wheels Textured Rich Earth ($690.03)

24'' 135lb Round Cement Filled Base w/ Wheels Textured Shell ($690.03)

24'' 135lb Round Cement Filled Base w/ Wheels Smooth Snow ($690.03)

24'' 135lb Round Cement Filled Base w/ Wheels Textured Sonora ($690.03)

24'' 135lb Round Cement Filled Base w/ Wheels Titanium ($690.03)

24'' 135lb Round Cement Filled Base w/ Wheels Woodland Green ($690.03)

24'' 95lb Cement Filled Aluminum 9'' Sleeve 1.5'' Pole Base Textured Aged Bronze ($473.08)

24'' 95lb Cement Filled Aluminum 9'' Sleeve 1.5'' Pole Base Smooth Aluminum Metallic ($473.08)

24'' 95lb Cement Filled Aluminum 9'' Sleeve 1.5'' Pole Base Smooth Almond Silk ($473.08)

24'' 95lb Cement Filled Aluminum 9'' Sleeve 1.5'' Pole Base Smooth Bronze Mica ($473.08)

24'' 95lb Cement Filled Aluminum 9'' Sleeve 1.5'' Pole Base Espresso ($473.08)

24'' 95lb Cement Filled Aluminum 9'' Sleeve 1.5'' Pole Base Textured Graphite ($473.08)

24'' 95lb Cement Filled Aluminum 9'' Sleeve 1.5'' Pole Base Textured Greco ($473.08)

24'' 95lb Cement Filled Aluminum 9'' Sleeve 1.5'' Pole Base Kaffee ($473.08)

24'' 95lb Cement Filled Aluminum 9'' Sleeve 1.5'' Pole Base Textured Moab ($473.08)

24'' 95lb Cement Filled Aluminum 9'' Sleeve 1.5'' Pole Base Textured Mocha ($473.08)

24'' 95lb Cement Filled Aluminum 9'' Sleeve 1.5'' Pole Base Nickel ($473.08)

24'' 95lb Cement Filled Aluminum 9'' Sleeve 1.5'' Pole Base Textured Obsidian ($473.08)

24'' 95lb Cement Filled Aluminum 9'' Sleeve 1.5'' Pole Base Smooth Parchment ($473.08)

24'' 95lb Cement Filled Aluminum 9'' Sleeve 1.5'' Pole Base Textured Rich Earth ($473.08)

24'' 95lb Cement Filled Aluminum 9'' Sleeve 1.5'' Pole Base Textured Shell ($473.08)

24'' 95lb Cement Filled Aluminum 9'' Sleeve 1.5'' Pole Base Smooth Snow ($473.08)

24'' 95lb Cement Filled Aluminum 9'' Sleeve 1.5'' Pole Base Textured Sonora ($473.08)

24'' 95lb Cement Filled Aluminum 9'' Sleeve 1.5'' Pole Base Titanium ($473.08)

24'' 95lb Cement Filled Aluminum 9'' Sleeve 1.5'' Pole Base Woodland Green ($473.08)

24'' 80lb Square Steel Plate 9'' Sleeve 1.5'' Pole Base Textured Aged Bronze ($573.85)

24'' 80lb Square Steel Plate 9'' Sleeve 1.5'' Pole Base Smooth Aluminum Metallic ($573.85)

24'' 80lb Square Steel Plate 9'' Sleeve 1.5'' Pole Base Smooth Almond Silk ($573.85)

24'' 80lb Square Steel Plate 9'' Sleeve 1.5'' Pole Base Smooth Bronze Mica ($573.85)

24'' 80lb Square Steel Plate 9'' Sleeve 1.5'' Pole Base Espresso ($573.85)

24'' 80lb Square Steel Plate 9'' Sleeve 1.5'' Pole Base Textured Graphite ($573.85)

24'' 80lb Square Steel Plate 9'' Sleeve 1.5'' Pole Base Textured Greco ($573.85)

24'' 80lb Square Steel Plate 9'' Sleeve 1.5'' Pole Base Kaffee ($573.85)

24'' 80lb Square Steel Plate 9'' Sleeve 1.5'' Pole Base Textured Moab ($573.85)

24'' 80lb Square Steel Plate 9'' Sleeve 1.5'' Pole Base Textured Mocha ($573.85)

24'' 80lb Square Steel Plate 9'' Sleeve 1.5'' Pole Base Nickel ($573.85)

24'' 80lb Square Steel Plate 9'' Sleeve 1.5'' Pole Base Textured Obsidian ($573.85)

24'' 80lb Square Steel Plate 9'' Sleeve 1.5'' Pole Base Smooth Parchment ($573.85)

24'' 80lb Square Steel Plate 9'' Sleeve 1.5'' Pole Base Textured Rich Earth ($573.85)

24'' 80lb Square Steel Plate 9'' Sleeve 1.5'' Pole Base Textured Shell ($573.85)

24'' 80lb Square Steel Plate 9'' Sleeve 1.5'' Pole Base Smooth Snow ($573.85)

24'' 80lb Square Steel Plate 9'' Sleeve 1.5'' Pole Base Textured Sonora ($573.85)

24'' 80lb Square Steel Plate 9'' Sleeve 1.5'' Pole Base Titanium ($573.85)

24'' 80lb Square Steel Plate 9'' Sleeve 1.5'' Pole Base Woodland Green ($573.85)

24'' 60lb Steel Plate 9'' Sleeve 1.5'' Pole Base Textured Aged Bronze ($537.46)

24'' 60lb Steel Plate 9'' Sleeve 1.5'' Pole Base Smooth Aluminum Metallic ($537.46)

24'' 60lb Steel Plate 9'' Sleeve 1.5'' Pole Base Smooth Almond Silk ($537.46)

24'' 60lb Steel Plate 9'' Sleeve 1.5'' Pole Base Smooth Bronze Mica ($537.46)

24'' 60lb Steel Plate 9'' Sleeve 1.5'' Pole Base Espresso ($537.46)

24'' 60lb Steel Plate 9'' Sleeve 1.5'' Pole Base Textured Graphite ($537.46)

24'' 60lb Steel Plate 9'' Sleeve 1.5'' Pole Base Textured Greco ($537.46)

24'' 60lb Steel Plate 9'' Sleeve 1.5'' Pole Base Kaffee ($537.46)

24'' 60lb Steel Plate 9'' Sleeve 1.5'' Pole Base Textured Moab ($537.46)

24'' 60lb Steel Plate 9'' Sleeve 1.5'' Pole Base Textured Mocha ($537.46)

24'' 60lb Steel Plate 9'' Sleeve 1.5'' Pole Base Nickel ($537.46)

24'' 60lb Steel Plate 9'' Sleeve 1.5'' Pole Base Textured Obsidian ($537.46)

24'' 60lb Steel Plate 9'' Sleeve 1.5'' Pole Base Smooth Parchment ($537.46)

24'' 60lb Steel Plate 9'' Sleeve 1.5'' Pole Base Textured Rich Earth ($537.46)

24'' 60lb Steel Plate 9'' Sleeve 1.5'' Pole Base Textured Shell ($537.46)

24'' 60lb Steel Plate 9'' Sleeve 1.5'' Pole Base Smooth Snow ($537.46)

24'' 60lb Steel Plate 9'' Sleeve 1.5'' Pole Base Textured Sonora ($537.46)

24'' 60lb Steel Plate 9'' Sleeve 1.5'' Pole Base Titanium ($537.46)

24'' 60lb Steel Plate 9'' Sleeve 1.5'' Pole Base Woodland Green ($537.46)

24'' 87.5lb Round Cement Filled Base Textured Aged Bronze ($473.08)

24'' 87.5lb Round Cement Filled Base Smooth Aluminum Metallic ($473.08)

24'' 87.5lb Round Cement Filled Base Smooth Almond Silk ($473.08)

24'' 87.5lb Round Cement Filled Base Smooth Bronze Mica ($473.08)

24'' 87.5lb Round Cement Filled Base Espresso ($473.08)

24'' 87.5lb Round Cement Filled Base Textured Graphite ($473.08)

24'' 87.5lb Round Cement Filled Base Textured Greco ($473.08)

24'' 87.5lb Round Cement Filled Base Kaffee ($473.08)

24'' 87.5lb Round Cement Filled Base Textured Moab ($473.08)

24'' 87.5lb Round Cement Filled Base Textured Mocha ($473.08)

24'' 87.5lb Round Cement Filled Base Nickel ($473.08)

24'' 87.5lb Round Cement Filled Base Textured Obsidian ($473.08)

24'' 87.5lb Round Cement Filled Base Smooth Parchment ($473.08)

24'' 87.5lb Round Cement Filled Base Textured Rich Earth ($473.08)

24'' 87.5lb Round Cement Filled Base Textured Shell ($473.08)

24'' 87.5lb Round Cement Filled Base Smooth Snow ($473.08)

24'' 87.5lb Round Cement Filled Base Textured Sonora ($473.08)

24'' 87.5lb Round Cement Filled Base Titanium ($473.08)

24'' 87.5lb Round Cement Filled Base Woodland Green ($473.08)
PRODUCT INFO
Product Specifications
Pole Material
Aluminum Pole
Construction Quality
Commercial
Made In

Product Features
Medium 9 foot shade size
Slick hexagon shaped canopy
Very durable and light weight aluminum pole
Featuring pulley lift system
MORE DOCUMENTS
ADDITIONAL FEATURES
Umbrellas are essential to creating a welcoming comfortable outdoor space. That???s why the Umbrellas & Bases Collection by Tropitones a wide selection of umbrellas and bases so you can find the best pieces to fit your personal style and desired functionality. Umbrellas are available in a variety of sizes to ensure that you can find the umbrella size best for your space and for the area you want to keep shaded. They are also available in a selection of pole finishes and canopy colors to customize your umbrella to fit your personal style preferences. Features like crank lift and auto tilt allow you to further personalize your umbrella for your desired functionality. The Umbrellas & Bases Collection also carries a number of umbrella bases in different styles weights and finishes to ensure that your umbrella will stay put even in windy conditions.
UMBRELLAS & BASES COLLECTION
MORE UMBRELLAS & SHADES
PRODUCT REVIEWS
There are no reviews yet for this product.
Review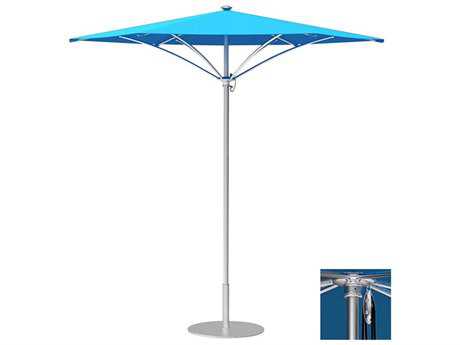 Tropitone Trace Aluminum 9' Hexagon Pulley Lift Umbrella