Treasure Garden Market Aluminum 9' Foot Wide Crank Lift Push Button Tilt Umbrella
EXUM920QUICKSHIP
by Treasure Garden from Market Aluminum - Quick Ship Collection
From $192.85
List Price
$290.00
33% OFF

FREE SHiPPING
Usually Ships within 3 to 5 Weeks
Special Order
Select Quick Ship or Longer Lead Time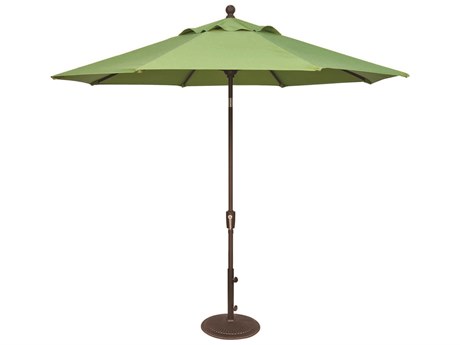 Quick Ship Lead Time
Standard Lead Time

NonStock Sunbrella
PRODUCT INFO
Product Specifications
Item Code
EXUM920QUICKSHIP
Pole Material
Aluminum Pole
Tilt System
Push Button Tilt
Construction Quality
Residential
Vent Style
Single Wind Vent
Single Wind Vent Weight
16
Double Wind Vent Weight
17
Product Features
Medium 9 Foot shade size
Classic octagon shaped canopy
Very durable and light weight aluminum pole
Featuring crank lift system
Push button tilt system for fast tilting
Recommended minimum of 50-80 lb. base for this style
QUICK SHIP SHIP TIMES ARE EXTENDED DUE TO COVID-19
MORE DOCUMENTS
MARKET ALUMINUM - QUICK SHIP COLLECTION
MORE UMBRELLAS & SHADES
PRODUCT REVIEWS
Enjoying my Patio Again

Aiken, SC 7/4/2020

Solidly constructed. Raising and lowering is easy. Tilting mechanism at the top works well. Love the Spa Sunbrella fabric, it's a light and cheerful color. Makes sitting outside in the South Carolina sun tolerable — I believe we will enjoy for years to come!

Worth every penny

Chillicothe , OH 7/4/2020

Well made, sturdy, and looks great

Love!!

St Paul, MN 7/2/2020

This umbrella is even better than I expected. The fabric Is good quality and the color Is perfect.

Decent Purchase

PHILADELPHIA, PA 7/2/2020

Overall, I think this umbrella is OK. It's easy to set up and delivery was prompt given the current circumstances. The reason I'm giving this three stars is that I'm already seeing the fabric pockets wearing down where the umbrella spokes fit into. I'll have to keep monitoring the wear on the three spoke pockets to see if the spokes are going to break through completely.

Great Umbrella

Visalia, CA 7/2/2020

Great coverage and the yellow color is fire.

Great Umbrella

Visalia, CA 7/2/2020

Great coverage and the yellow color is fire.

Great Quality!

Arvada, CO 7/2/2020

I decided to spend a bit more money and hope for a higher quality umbrella. I googled and Wirecutter recommended this umbrella as their top pick. I was not disappointed. You can tell the quality immediately with the crank - you cannot 'overcrank'. Color was fabulous (bought 'Spa') and decided on the higher quality canvas - again very pleased. The extra ribs add some weight to the umbrella which makes me think it will be sturdier in potential wind gusts if up. Very pleased overall - took approximately 6 weeks to receive but worth the wait.

Nice umbrella

LOS ALTOS HILLS, CA 6/22/2020

Good quality, sunbrella fabric color as expected.

Best Deck Umbrella to date

Fredericksburg, VA 6/21/2020

Setup was easy, the umbrella raises and lowers effortlessly, it provides very good coverage, and it is very stable.

Shade but not a shady deal

Healdsburg, CA 6/18/2020

A beautifully made umbrella with great ability to shade. Nice color too! Have not used the cover yet.

Wonderful umbrella choice

Plymouth, MA 6/10/2020

Great quality!

Quality product

New York, NY 6/10/2020

This umbrella has a very good mechanism that should hold up for years to come. Sold build.

Love it!

Mahwah, NJ 6/6/2020

This umbrella is beautiful and does its job well. We put it in a movable base for greater flexibility.

Beautiful and sturdy!

Kingston, NY 5/31/2020

Our new umbrella - a stunning blue - is the centerpiece of our garden!! It's also easy for my arthritic hands to open and close - yeah!!!!

Beautiful and sturdy!

Kingston, NY 5/31/2020

Our new umbrella - a stunning blue - is the centerpiece of our garden!! It's also easy for my arthritic hands to open and close - yeah!!!!

Sturdy, easy to adjust

Washington, DC 5/22/2020

Bought two of these and am very happy with their appearance and performance. I found it difficult to evaluate Sunbrella color options on this site, but other sites have lots of close ups of the fabric swatches.

smooth

Madison, WI 5/22/2020

After several years of buying cheap umbrellas that would make it half a summer, I decided to try something new. I read a lot of reviews and decided to try this one out. I'm so glad I did! I love the sunbrella fabric - it looks great! And the crank system is so smoother.

Great buy

Concord, NH 5/15/2020

High quality

Quality is there

Hilliard, OH 5/11/2020

Nice quality...I wasnt sure about navy blue in pictures (looked black) but I love the color!

Looks great. Works great.

Middleton, WI 5/9/2020

Good buy.

excellent as promised

Phoenix, AZ 3/8/2020

shipping and customer service were excellent as is our umbrella. completely satisfied.

Great buy!!

Scottsdale, AZ 9/18/2019

Sturdy umbrella

Great buy!!

Scottsdale, AZ 9/18/2019

Sturdy umbrella

Good buy

Astoria, NY 8/25/2019

The umbrella was easy to set up and provides great shade. Nice color and definitely durable. The tilt feature is nice but based on umbrella height, any moderate gust of wind can lift it up along with 100ib base. As long as you keep an eye on it in the wind it is a great buy.

Wonderful Umbrella

Astoria, NY 8/17/2019

We are very happy with our new umbrella. It not only provides shade, but protects our seats from the elements

Exactly as described

Vernon Hills, IL 7/6/2019

This umbrella for our patio table is exactly what we wanted and as described. We needed a white pole and a certain color for the umbrella in a brand that I found at Patio Living. And that is exactly what we were able to get, and cheaper than at our patio store nearby. The patio store in our area wanted me to wait for 6-8 weeks for a special order. I found exactly what we needed at Patio Living and had it within 2 weeks. I did call and talk to Patio Living to confirm a few things, and their customer service representative was very helpful. Will order more things from Patio Living!

Good buy

Kalamazoo, MI 7/3/2019

Exactly what we thought that we were buying. Replacing another one that broke and were concerned that this would not be the same quality. Good quality and a great price.

Excellent product

Alexandria, VA 7/3/2019

Very impressed with quality!

Worst Customer Service Ever Experienced

LONE TREE, CO 6/30/2019

We were extremely disappointed and frustrated in dealing with this company. We ordered this umbrella in plenty of time to have it for a Memorial Day party. The wrong item was shipped to us, and we provided that information on May 13. The supplier shipped the wrong item, and that was confirmed on the packing list. However, we had to partially unpack the umbrella, take a picture of it, and attach it to an email "proving" that the wrong item was sent. Despite talking to several customer service representatives, no one followed up or offered any solution. We are not accustomed (or satisfied with) doing business with a company where no one seems interested in helping the customer. We were billed for the item May 3 and it had not been shipped as of May 24. FedEx came (May 23, 2019) while we were not at home and left a form asking us to sign so they could deliver (or pick up an item) — the note did not indicate the purpose of the visit. This morning (May 24, 2019) a FedEx driver stopped at our house again. He said he was there to pick something up, but he did not know what it was or have any documentation concerning the item he was there to pick up. We tried to ask him if it was the umbrella, but his command of the English language was so limited that he could not understand what we were saying. We gave him the umbrella to return since we had no other items that were due for return via FedEx. We contacted PatioLiving stating these concerns and never received any acknowledgement of the email. We eventually did receive the correct item, however, due to the extremely poor customer service, we will not be ordering from them again.

Sturdy and colorful

Clarkston, MI 6/30/2019

I bought this to replace an identical umbrella I had for 23 years which finally succumbed to the elements. I appreciate the improvement in the ball top as my previous umbrella's top broke off when it fell and couldn't be repaired. Color lasted 23 years. Never got mildewed and the mechanisms worked until the end when it flew 50 feet into a brick wall.

Good

Portland, OR 6/6/2019

Thank you

Nice umbrella

Burnet, TX 6/6/2019

The umbrella is fine need to see if it holds up

Very good service.

Palm Springs, CA 6/2/2019

Initially, I mistakenly ordered the smaller 7' umbrella and had to return it for the larger 8' one. The service people were very helpful and I was able to make the exchange with very little hassle. I am pleased with my new umbrella~

Best Umbrella Yet

TEMPE, AZ 5/18/2019

We live in Arizona and have a pool. We have been through dozens of patio umbrellas. This one has been the best we have ever owned. We bought one last year in the aqua color and purchased another this year in the same color. The year old umbrella is still the same vibrant color. I did pair the umbrellas with a heavy duty stand I purchased elsewhere but the combo stay upright in the strong AZ winds we get. This is the only umbrella I will ever purchase again and Patio Living has it at the best price with fast shipping.

Great quality!

Bakersfield , CA 9/23/2018

Lovely, true to description and a great buy!

Exactly what I wanted!

Phoenixville, PA 9/9/2017

The ability to look at fabric swatches made this purchase so much easier!

Great umbrella

Grove City, OH 8/28/2017

Great umbrella, well constructed and matches our patio furniture

Great quality material and parts

NH 7/24/2017

Excellent construction and easy to use umbrella

Perfect!

Wilmington, NC 7/3/2017

Bought two of these and we are very happy with our purchase! Great quality at a good price! We are hopeful they last a long, long time.

Great quality

Arlington, VA 6/14/2017

We received our umbrella two weeks ago and have been very happy so far. It seems a very good quality, sturdy. The size is great for our patio and easily shades our 6 ft round table and chairs. My one problem is I ordered the "natural" colored Sunbrella fabric. It's really white. I thought it would be more light tan. But it's fine.

Good product

South Milwaukee, WI 9/1/2016

Love it, would recommend to others.

Great STAFF! The staff was very helpful and followed thru on everything promised

Seymour, IN 7/12/2016

PRODUCT WAS AS GOOD AS (OR BETTER) THAN THE ONE WE HAD BEFORE AND THAT IS VERY GOOD!

Great find

Wayne, NJ 5/19/2016

After much research I was able to find this umbrella. It is the perfect match to one I received as a gift last year. Luxe decor had the best price.