Treasure Garden Market Wood 9' Octagon Pulley Lift Umbrella
EXUM8091
by Treasure Garden from Market Wood Collection
From $206.15
List Price
$310.00
33% OFF

FREE SHiPPING
Usually Ships within 3 to 5 Weeks
Special Order
Select Quick Ship or Longer Lead Time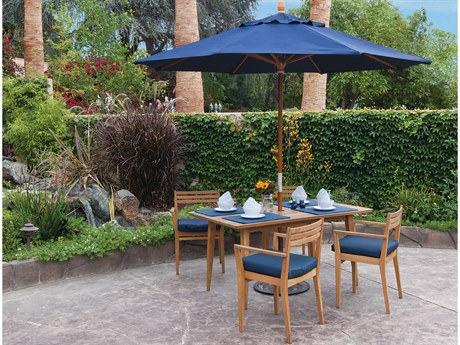 Standard Lead Time
NonStock Sunbrella

Quick Ship Lead Time
Bases
Umbrella Cover
Umbrella Lights/Bluetooth
PRODUCT INFO
Product Specifications
Construction Quality
Commercial
Vent Style
Single and Double Wind Vent
Product Features
Medium 9 foot shade size
Classic octagon shaped canopy
Beautiful and elegant wood pole
Featuring pulley lift system
57 square foot coverage
Recommended minimum of 50 lb. base for this style.
MORE DOCUMENTS
ADDITIONAL FEATURES
Treasure Garden's Hardwood umbrella poles are crafted of FSC - certified from well-managed forests. Treasure Garden's wood products are distinguished by any of the following characteristics: Organic, Recycled, Reclaimed or Sustainable.
MARKET WOOD COLLECTION
MORE UMBRELLAS & SHADES
PRODUCT REVIEWS
Perfect umbrella

FALMOUTH, ME 6/21/2020

Super high quality, beautiful umbrella

Perfect umbrella

FALMOUTH, ME 6/21/2020

Super high quality, beautiful umbrella

Good value

Woodstock, VT 7/6/2019

Totally functional and attractive, but at a reasonable price. I've had a similar one for 4 years and bought this one to match. Except for the finial color fading, the old one has held up very well and the sunbrella fabric has not faded at all.

Good value

Woodstock, VT 7/6/2019

Totally functional and attractive, but at a reasonable price. I've had a similar one for 4 years and bought this one to match. Except for the finial color fading, the old one has held up very well and the sunbrella fabric has not faded at all.

Great buy

York, SC 6/22/2019

Love love love this product

Patio Umbrella

Piney Point Village, TX 6/19/2018

I ordered one of their umbrellas which included the pole and frame for the umbrella. They sent a striped umbrella in stripes that are different colors than the one I ordered. The pole they sent is bright orange and the umbrella they sent is black, white, tan and burgundy. They have refused to replace the umbrella with the one I ordered.

GREAT PRODUCT, GREAT PRICE

Walnut Creek, CA 5/5/2017

THIS IS THE SECOND TREASURE GARDEN MARKET UMBRELLA I HAVE HAD AND WILL ORDER ANOTHER BEFORE THE SUMMER I S OVER.

Well constructed Umbrella

Madison, WI 6/28/2016

I am very happy with this new Treasure Island umbrella. It is well constructed and is easy to open and close with the quad pulley system. It looks like it was made by craftsmen, not zombies on an assembly line. I ordered this umbrella after purchasing and returning a different brand of market umbrella from a different online company. That returned umbrella was advertised as having a pulley lift system but did not have any rope or pulleys at all. Furthermore that returned umbrella was very cheaply made. When I called Patio Living to verify that this umbrella had a rope and pulley lift before I ordered it the woman who helped me on the phone was knowledgeable and verified that indeed this Treasure Island umbrella has a quad pulley lift system. The quad pulley lift system is much easier to open than my older two pulley lift system umbrella that I had for over 12 years before I forgot to close it one day. On that day, a strong clear air thermal whirlwind came out of nowhere and lifted my old umbrella out of the stand like a helicopter taking off and when it landed on the ground one of the wood ribs was broken. Always remember to close your umbrella when it is windy and even take it out of the weather completely if you are not actively using it to insure your umbrella will last a long time. Oh, and now I have drilled a small hole in my new umbrella and pinned it to my umbrella stand to keep it from helicoptering away unexpectedly like the old one did. And I will tell you about my umbrella stand too. They don't make those store bought ones heavy enough to keep from tipping over in an unexpected wind gust. For my umbrella stand, I first dug a three foot deep hole in my patio (using a post hole digger tool) where I wanted to have the umbrella. I then placed a three foot long 2 inch diameter PVC pipe in the hole and back filled around it with pea gravel while keeping the PVC pipe perfectly vertical. I then took a 5 foot long piece of 1.5 inch ID steel pipe and drilled a 1/4 inch hole in it two feet from one end and fastened a 1/4 diameter bolt to the hole. When I am not using my umbrella, the PVC pipe in the ground is caped with a PVC pipe cap. Then when I want to set up my umbrella, I remove the PVC pipe cap and place the steel pipe inside the PVC pipe so the two foot long section is up and the 1/4 inch bolt is resting on top of the PVC pipe. I then lower the 1-1/2 inch diameter wood umbrella pole into the steel pipe until it stops at that 1/4 inch bolt. I recommend then drilling a 3/16 diameter hole about 12 inches below the top of the steel pipe. Drill the hole through the center of the steel pipe and the wood umbrella pole while it is in position in the steel pipe. Then put a removable pin in the hole through the steel pipe and wood umbrella pole to keep the umbrella from ever helicoptering out of this secure umbrella stand.

Great product. Second one purchased and am happy with both of them

Winston Salem, NC 6/27/2016

Good company to deal with. Kept me informed of status of order and provided tracking information

Very pleased

Bound Brook, NJ 6/18/2016

I have had a Treasure Garden market umbrellas for over 10 years and just had to replace it. I am very pleased with the quality and construction of the new one. Will definitely order another one when I need to replace the one over my patio set.

Love This Umbrella!

Stone Mountain, GA 4/8/2016

We looked at many market umbrellas and found this one to be exactly what we wanted. The quality of the wood pool and umbrella spokes as well as the pully system are great. It is well made all around and a great buy!

Great Deal on a Great Product

Chattanooga, TN 7/1/2015

I was quite happy to find the exact umbrella needed to match the ones I already had for my restaurant at a very reasonable price.Thanks again