Treasure Garden Market Aluminum 8' x 11' Crank Lift Rectangular Umbrella
EXUM8811RT
by Treasure Garden from Market Aluminum Collection
From $369.08
List Price
$555.00
33% OFF

FREE SHiPPING
Usually Ships within 3 to 5 Weeks
Special Order
Select Standard or Nonstock Umbrella Fabrics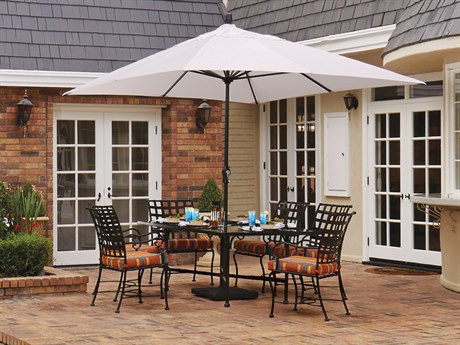 Standard Lead Time
NonStock Sunbrella
PRODUCT INFO
Product Specifications
Pole Material
Aluminum Pole
Construction Quality
Residential
Vent Style
Single Wind Vent
Product Features
Large 11 foot shade size
Rectangular shaped canopy
Very durable and light weight aluminum pole
Featuring crank lift system
88 square foot coverage
100% Kevlar Mesh Lift Cord for added strength and durability
Recommended minimum of 100 lb. base for this style
MORE DOCUMENTS
MARKET ALUMINUM COLLECTION
MORE UMBRELLAS & SHADES
PRODUCT REVIEWS
Great umbrella

Houston, TX 7/4/2020

This was the largest rectangular umbrella that had a center pole vs cantilevered. Cantilevered bases take up so much room and that wouldn't work for us.

Great buy

Bayport, NY 7/1/2020

Love this umbrella. High quality.

Beautiful and Well-Constructed

Foxboro, MA 5/3/2020

We purchased two of these for our new patio and chose charcoal tweed Sunbrella: one for our outdoor kitchen island and one for a dining table. Very pleased. Tip: When unpacking these, be careful not to open the umbrella until you remove a small, innocuous tag that is attached to two of the ribs. We started to open the umbrella and noticed it wouldn't open more than 10% and started to make the ribs flex.

Great product and service

Phoenix, AZ 3/18/2020

We love our new Treasure Garden Market umbrella. It's big enough to nicely cover a table for 8. The order and delivery were perfect. We would definitely recommend the product and Patio Living.

Quality umbrella

PENNINGTON, NJ 11/16/2019

My treasure garden umbrella is top notch quality. The people at patio living are ALSO top notch....their service, knowledge and prices are excellent.

Excellent quality

Wareham, MA 9/14/2019

Excellent quality! What a big difference from the junk you get at the big box stores

Rectangular Umbrella

Delray beach, FL 10/16/2018

Excellent product and customer service

don't waste your money!!!

Irving, TX 4/13/2018

I bought this thinking I would be able to sit on my patio under a shady umbrella and enjoy a nice summer day. NOOOOO!!! I'm telling you, I've had this for 6 months now and I've only been able to use it a handful of times. Why? Because even on a very calm day, the very tiniest gust of wind will cause this thing to be picked up by the wind. I also bought the 100 lb base for it for extra security, didn't help one bit. The umbrella goes rolling across the patio and you have to catch it before it falls over onto someone. I will never ever buy a product from this company again.

Rectangular Umbrella

NJ 8/23/2017

I love the size of this umbrella, I just wish it was available with a tilt option.

Well made, looks great and terrific value

Staten Island, NY 7/8/2017

Love the way it looks, smooth crank operation.

Makes a great difference!

Penn Valley, CA 6/19/2017

It is very hot this summer, and this umbrella is very helpful on our back patio. We move it around or put it into the table, depending on our needs. The stand is very heavy so not too easy to move. Color matches our cushions perfectly

Very Happy

Telford, PA 5/28/2017

We received our new umbrella in great shape. The delivery was easy. It works very well on our deck so far. Materials that the umbrella seem to be very good.

We love them!

Madera, CA 5/17/2017

We purchased two of these umbrellas to cover our patio instead of one of those expensive roll out awnings. They are very well made, arrived in 4 1/2 weeks. They seem taller than the old 9' round umbrellas that they replaced. Having the concrete shaded makes such a difference in the comfort of our patio. We can finally spend time out there in the afternoon.

Super buy

Stony brook, NY 7/13/2016

It is very well done and elegant.

Great size great coverage

Baltimore, MD 7/10/2016

Really happy with the quality and the size to cover our rectangular table! We received consistent updates on delivery date!

New, but looks great so far!

Linton, IN 6/10/2016

I'm not sure about the durability yet as it is a new item. However, it looks beautiful and matches my other Sunbrella fabric well.

Excellent Buy

Rye Beach, NH 6/5/2016

Price, color, fabric and design are exceptional, highly recommend.

Umbrella is beautifull

Delray Beach, FL 5/18/2016

Fabric is not water resistance

Very Pleased

Manalapan, NJ 5/10/2016

There was a delay in the product delivery but we have no complaints about the look or product quality. The color contrasts with our deck exactly as we thought it would and the sun coverage is very good. We have had several strong storms since the umbrella arrived. The tie for the umbrella, and the pole, have held up well in the winds and torrential rain. I highly recommend this umbrella!

Love our umbrella!!!

Bumpass, VA 5/6/2016

Easy to put together. Opens and closes smoothly. Perfect match for our large patio set. Couldn't have come at a better time because it's HOT outside!!!

Great products at great prices

Peoria, IL 4/25/2016

Very pleased with the service and pricing. Shipped on time and free. Would definitely use them again.

Great Buy

Centennial, CO 4/12/2016

Elegant precise size of umbrella for optimal shading.

Price was hard to beat!!

Berlin, MA 3/20/2016

Great buy!

Excellent quality umbrella

San Diego, CA 2/5/2016

An all round excellent product. Great choices of Sunbrella fabric.

Looks durable

Edison, NJ 2/2/2016

just got this after winter season, but looks very durable and stylish

Just what I ordered

Staten Island, NY 10/26/2015

Since I couldn't take the umbrella out of the box till Spring, I pulled out just enough to see the material used was top quality and the color a rich red just like I ordered. Thank you Patio Living

Beautiful!

Parkesburg, PA 8/17/2015

The umbrella and stand that we purchased are just beautiful! Extremely well made. Would highly recommend to anyone.

excellent purchase

Baltimore, MD 8/2/2015

stylish yet sturdy, well built, as described. highly recommended

Nice quality!

Glenwood, MD 5/31/2015

I was very happy with the quality of both if my umbrellas. I love that they both have ties, and the lift/lower mechanisms seem sturdy.

High quality fabric and construction

La Quinta, CA 5/23/2015

These are very large umbrellas. The construction is high quality and the fabric (sunbrella) is very good. There were many fabric choices, so it took some time for fabrication, but it was worth the wait.