Frog Furnishings A Frame Recycled Plastic 8 ft. 96''W x 60''D Rectangular Picnic Table
JHPBAPIC8
by Frog Furnishings from A Frame Collection
From $995.00
List Price
$1,421.43
30% OFF

FREE SHiPPING
Usually Ships within 1 to 2 Weeks
Special Order
Select Table Size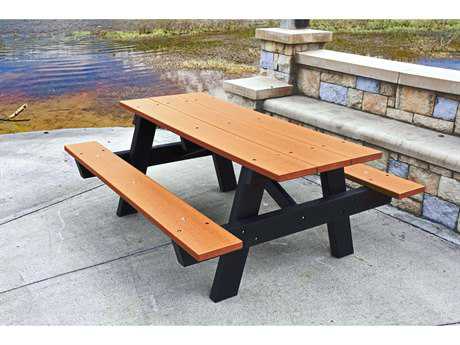 A Frame 8 ft. 96''W x 60''D Rectangular Picnic Table
A Frame 6 ft. 72''W x 60''D Rectangular Picnic Table

A Frame ADA 6 ft. 96''W x 60''D Rectangular Picnic Table
PRODUCT INFO
Product Specifications
Construction Quality
Commercial
Mount Option:
j bolt/L- bracket
Product Features
Maintenance free
Commercial Grade
Made in the USA
Several color options
Won't rot splinter or fade
Made from Jayhawk's premium tri-blend recycled plastic Resinwood
MORE DOCUMENTS
ADDITIONAL FEATURES
Made with various sized Resinwood slats, this table will blend into any traditional environment. The top and seats are made with 2 x 10 Resinwood slats. The table frame is made from 2 x 6 and 2 x 4 Resinwood slats. Custom colors available for quantity orders. Heavy duty, Zinc coated hardware standard. Stainless steel hardware available. ADA models available.
A FRAME COLLECTION
MORE PICNIC TABLES
PRODUCT REVIEWS
Very impressed!

St Petersburg, FL 11/13/2019

My father got a hexagon shaped table made out of this material and it immediately appealed to me for the sole fact that it would outlive all of us if allowed to and look virtually the same 50 years from now as it does today. This table is super heavy, that's not a bad thing, just keep that in mind if you planned on moving this around at all. It took about a half hour for two of us to assemble and might be difficult for the un-handy types. I would recommend this table, it's expensive (like all furniture made out of this material) but worth it because of its lasting qualities.