FREE SHIPPING ON ALL ITEMS
CALL US:

888.761.4777
Resol

Resol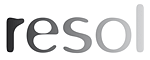 Authorized Dealer
Resol
Resol was founded over 50 years ago (1961), and became a reference in the plastics processing sector country wide. At the beginning it became known for its comprehensive range of household refrigerators. Later it stood out by being the first manufacturer in the country to produce a monoblock injected resin chair.
Today it is known as a manufacturer of plastic products with high added value in design, innovation and technology, while also leading the processes of development, production and marketing of indoor and outdoor furniture, as well as the process of thermoplastic injection. In fact, thanks to this know-how and technological expertise, the company has been able to incorporate technologies from other sectors to the furniture industry.
With a marked international focus, their products and services are present in more than 100 countries worldwide . Resol has\ the most extensive range of products for the Hospitality industry and they are leaders in products for mass distribution and design furniture through their brand Barcelona Dd, with the collaboration of internationally renowned designers like Josep Lluscà and Joan Gaspar.
+ More
- Less
Shop Resol Collections
Shop Resol Products