Source Contract

Source Contract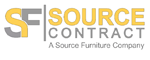 Authorized Dealer
Source Contract
Brand Story
If you need commercial grade outdoor furniture for your next project, consider choosing Source Contract Furniture as your one stop shop for all your living and dining al fresco essentials. The brand has all the products commercial customers need plus the style to match, from chaise lounges for the pool deck to dining tables that make it simple for restaurants to serve guests on their patio. The company was created with the mission of filling the gaps its founders saw in the commercial market at that time, offering customers everything they were craving and needing for their outdoor spaces. Since it was founded, Source Contract Furniture has quickly made a name for itself in the outdoor furniture industry, setting itself apart by always offering chic contemporary collections and some of the best quality pieces available. No matter your vision for your next commercial project, find everything you need to make it happen from Source Contract Furniture.
The Source Contract Furniture Line Source Contract Furniture is based in Miami Florida and many of its products and collections are produced right here at home in the United States. You'll find sleek and contemporary collections crafted from durable materials like synthetic wicker and aluminum. These materials are a smart choice in highly trafficked commercial settings and designed to perform, no matter the weather. From dining sets to lounge sets, you'll find everything you need to bring your vision for any outdoor patio to life. You can choose from Source Contract Furniture lounging essentials like loveseats, sofas, lounge chairs, and more to create a casual and welcoming space to kick back. Coffee tables and end tables from the brand are the perfect complement to your lounge selections. Dining table and chair sets let restaurants serve customers on the patio with ease and comfort, and chaise lounges are the perfect addition next to a hotel pool or on a sunny rooftop deck. Source Contract Furniture also offers accessories and other outdoor must-haves to complete the look of any setting.
The Source Contract Furniture Aesthetic Source Contract Furniture offers some of the most stunning and beautiful furniture available in the commercial patio market, with a quality of construction that competitors just cannot match. All upholstery is produced in house at the brand's own facilities for premium quality and consistency, and a talented team of artisans and furniture makers are employed to fill your custom order with the utmost care and as quickly as possible. Source Contract Furniture uses popular Sunbrella fabrics in the production of its upholstered furniture. The brand was established by founders who noticed a lack in the outdoor furniture market, and sought to offer customers both residential and commercial with the selections they had been missing. The brand is a favorite with trade customers and in commercial venues like popular restaurants and hotels. Expansive customization options from Source Contract Furniture make it simple to achieve the precise look and specifications you need for your next patio project.
+ More
- Less
Shop Source Contract Collections
Shop Source Contract Categories
Shop Source Contract Products