Woodard Ramsgate Aluminum Swivel Rocker Dining Arm Chair
WR160472
by Woodard from Ramsgate Collection
From $384.80
List Price
$592.00
35% OFF

FREE SHiPPING
Related Cushions
Usually Ships within 4 to 6 Weeks
Special Order
Select Cushion Options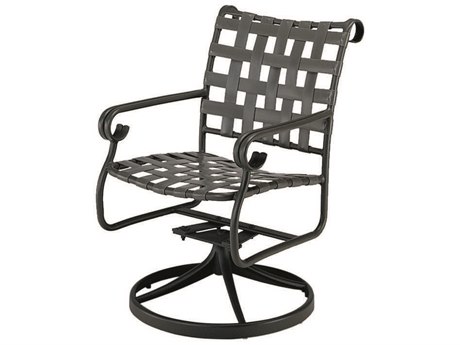 Swivel Rocker - No Cushion
Swivel Rocker Dining Arm Chair w/ Seat & Back Cushion

Swivel Rocker Dining Arm Chair w/ Seat Cushion
PRODUCT INFO
Product Specifications
Construction Quality
Residential
Dimension
23''W x 25''D x 35''H
Made In

Product Features
Very durable and light weight aluminum material
Minimal maintenance required
Suitable to be used anywhere outside
Great selection of strap options available
Arm handles are offered for comfort and style
Features swivel rocking motion for relaxation and comfort
MORE DOCUMENTS
ADDITIONAL FEATURES
Refined lattice patterns and curved cast aluminum chair arms and table legs define the Woodard Ramsgate collection. Most pieces in this collection are customizable so you can mix and match different styles for a completely unique look that fits your personality and preferred decor. Woodard Ramsgate Patio Furniture Styling Guide For a cozy, welcoming look in your backyard, consider adding cushions to your lounge and dining chairs. The cushions will add extra comfort, and you can choose different fabrics and colors in order to fit your personality. Typically, lighter colored fabrics open up a space and give it a lighter, airier feel. Darker colors add notes of luxury, especially if you choose a deep burgundy fabric or darker colored leather. Tables with a glass top offer a more timeless and elegant look; placing glass top end tables on either side of an outdoor sofa gives guests a place to rest their drinks and food. Material Details Cast aluminum is a very strong and durable material that can withstand the outdoor elements and is ideal for those who live in more coastal and humid environments. Woodard Ramsgate patio furniture is constructed out of rust-resistant cast aluminum and is very stable, meaning it won t bend or warp. Care for this type of material is minimal, making it ideal for those who want low maintenance patio furniture; all you need to do is wash each piece with soapy water.
RAMSGATE COLLECTION
MORE DINING CHAIRS
PRODUCT REVIEWS
Quality

atlanta, GA 7/10/2020

Excellent quality and style. Exceeded my expectations.

Quality product

Congers , NY 6/21/2020

Pleased with swivel rocker. PatioLiving made best effort to deliver item during covid-19 shutdown.

Time will tell.

Santa Fe, NM 5/21/2019

I've had these chairs for less than two weeks and they are being snowed on as I write this. At first sight upon delivery they looked fine, sturdy and attractive. After just a week I noticed spots on both the strapping and the powder-coated finish on the metal ..... nothing really to be concerned about as they easily wiped off. The chairs are comfortable, light-weight enough to be moved around easily and comfortable even without cushions. I would prefer to give a review on them after a year or so .... that would make for a better and sensible critique. Delivery was a bit botched. Seemed the right hand at PatioLiving didn't know what the left was doing. I received a notice that my chairs had been delivered and signed for by someone I'd never heard of and when I called to solve the mystery, I didn't get much help. I was simply given the phone number of the transport company and expected to figure out where my order was myself. It turned out that my order had been delivered to a transfer shipper in a different city from mine. None of this was ever mentioned by PatioLiving. After a week of hassle I finally got resolution to the problem - no thanks to PatioLiving. So, my conclusion is that PatioLiving sells some pretty good products but their customer service is sorely lacking .... they're friendly and quick to make a sale, but once that's done the customer is ignored. Please consider this constructive criticism.

Excellent Quality, Comfortable and Stylish

Bourbon, MO 7/20/2014

We own 6 of these chairs. Love them!