Primo Grills Oval (300) Large Staineless in Cart
PM300CART1 + Oval Large 300 Collection by + Primo Grills
From $1,618.00
List Price $2,941.82 Save $1,323.82

45% OFF
FREE SHiPPING
+ Shipping Info
Usually Ships within 1 to 2 Business Days
Special Order
Select Size and Configuration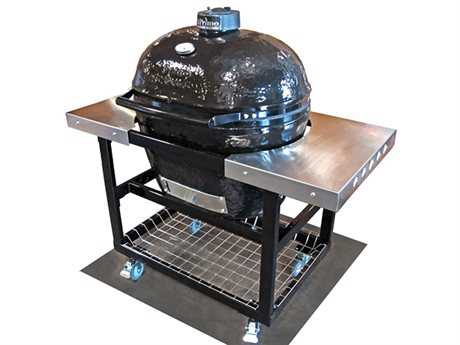 Oval (300) Large in Cart with Side Tables
Oval (300) Large in Counter Top Cart

Oval (300) Large in Cart

Oval (400) XL Smoker

Jack Daniels Oval (400) XL in Stainless Steel Cart

Jack Daniels Oval (400) XL in Cypress Table
PRODUCT INFO
Product Specifications
Made In

Product Features
Unique oval shape opens the door to diverse cooking options
SuperCeramic is protected by a lead-free and scratch-resistant glaze
Ceramic technology and porcelain-coated cooking grates ensure even heating across the entire grill surface
Primo has one of the highest sitting lids on the market
Proudly Made in the USA
300 Sq. In. Cooking Surface w/ Option to Gain a Toal of 495 Sq. In.
MORE DOCUMENTS
SET COMPONENTS
Primo Grills Oval Large 300 Ceramic Grill Smoker
24in W x 25.25in T x 18.5in D
Primo Cart with Basket w/SS Side Shelves for Oval LG 300 & XL 400
OVAL LARGE 300 COLLECTION
MORE ON CART GRILLS
PRODUCT REVIEWS
Great product

Tomball, TX 12/3/2015 12:00:00 AM

Love the smoker and you did very well at keeping us updated on shipping changes