FREE SHIPPING ON ALL ITEMS
CALL US:

888.761.4777
Grown For You

Grown For You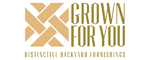 Authorized Dealer
Grown For You
Brand Story
Located in Essex, Connecticut, Grown For You has been handcrafting custom wood outdoor products for over 25 years. Made 100% in America, the company employs skilled craftsman who handcraft everything right in the company's wood shop. The brand is constantly striving for perfection and guarantees your satisfaction when you receive their high-quality, hand crafted, premium western red cedar products.
Product Line
The company's master craftsman design and craft each item with western red cedar. The company chose this wood because of its beauty, durability, and its resistance to rot and insects. The brand exclusively uses stainless steel fasteners, which keeps the products sturdy and also prevents rust. Western Red Cedar is the ultimate green building material as well, for those customers who are socially conscious. It's considered a "green material" because less than 1/3 of 1% of British Colombia's cedar growing stock volume is harvested each year. Also, for every tree that is harvested, three more are replanted. There are more forests in North America today than there were 100 years ago, and this means that there's more oxygen being released back into the atmosphere which contributes to a healthier environment. Truly a green material, western red cedar requires significantly less energy to produce than other materials. Grown For You is "building green" when they make their products, and encourages you to make the right choice for the environment and "buy green". PatioLiving carries several different types of products from the brand that are crafted from their eco-friendly wood. PatioLiving carries Grown For You bar tables, coffee tables, console tables, and end tables.
The Grown For You Aesthetic
Nothing adds more elegance and sophistication to an outdoor space like the classic look of wood patio furniture. The brand's materials are stunning, rich, and can add warmth to any space. Just like you match finishes and colors on your indoor furniture, the company believes you should be able to match your outdoor furniture together. For maximum customizability, the brand offers their pieces in wide selection of colors and finish options at PatioLiving.
Grown For You In Your Backyard
Because of the tree's versatility and sustainability, Native Americans refer to the western red cedar as the "Tree of Life". You can be confident that the brand's products made from this lumber will stand the test of time. The company's products are all-weather resistant and are also resistant to rust. The brand makes quality products that are intentionally crafted for year of dependable outdoor use.
+ More
- Less
Shop Grown For You Categories
Shop Grown For You Products