Eddie Bauer

Eddie Bauer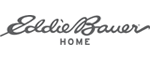 Authorized Dealer
Eddie Bauer
Brand Story
Eddie Bauer Home is an offshoot of the well-known Eddie Bauer brand, that offers patio lounge and dining furniture essentials for everyday living. Eddie, the founder of the super-brand, grew up in Washington State and previously worked as an outdoor guide. It's easy to see where his affinity for all things nature and the outdoors stems from. As an avid fisher and hunter from a young age, her turned his passions for adventuring in the great outdoors into an iconic brand that is as all-American as they come. He famously created one of the first down jackets, which sparked a revolution in cold temperature outer clothing, and set a tone of innovation that has carried the brand into the present day, always with the end goal of creating adventure-worthy clothing and essentials that meet the modern-day explorer's every outdoor need. Professional outdoor guides are included in the ideation and production processes for all of the brand's outdoor gear, speaking to their dedication to products that are highly functional. Eddie Bauer Home includes outdoor living and dining furniture essentials crafted from a range of materials that are sure to speak to any style.
The Eddie Bauer Home Product Line The Eddie Bauer Home outdoor furniture line includes six striking and distinctive collections. Each collection includes both dining and living selections, with a range of options available for however you like to live outdoors. Choose from Eddie Bauer Home sofas, armchairs, loveseats, and ottomans to furnish an outdoor lounging space. Then add in coffee tables and end tables to complete the look. To dine in the open air, choose from dining tables with extensions that make it easy to comfortably gather groups of various sizes in the same space. Fire pit tables are also available, that bring warmth and light to your patio even after dark or in the chillier fall months. Products are crafted from durable outdoor materials like synthetic wood, aluminum, and woven wicker. You can choose from a range of Sunbrella fabric color and pattern options to customize the look of your furniture. Eddie Bauer Home cushions are designed to resist wear from rain, snow, and harmful UV rays.
The Eddie Bauer Home Aesthetic To create the Eddie Bauer Home inventory, the well-known American brand dipped into its keen sense of style, high standard of quality, and superior custom services to deliver a range of outstanding offerings and collections. The intention of Eddie Bauer Home is to bring a highly-livable selection of outdoor furnishings to market that reflect the mindset and spirit of today's outdoor enthusiasts who share an affinity for an active lifestyle. The Eddie Bauer outdoor furniture inventory includes six unique collections. From mixed natural rope and woven wicker weaves, to padded sling seating with distinctive diamond designs, the amount of time and dedication that was given to creating the home furniture selections from Eddie Bauer is evident. These styles are intended to be as unique and stylish as they are comfortable, for a final look that's both welcoming and effortlessly elegant. The brand's core commitment to quality is evident throughout the Eddie Bauer Home collections as well as through every item the brand offers.
+ More
- Less
Shop Eddie Bauer Collections
Shop Eddie Bauer Categories
Shop Eddie Bauer Products