A.R.T. Furniture Outdoor

A.R.T. Furniture Outdoor
On Sale | View Current Sale Items >>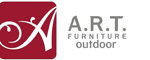 Authorized Dealer
A.R.T. Furniture Outdoor
Brand Story
A.R.T. Furniture is a luxury home brand that has traditionally offered indoor furnishings and decor pieces that range from traditional to contemporary in appearance. The brand began by producing artisan-inspired pieces for every room, including bedrooms, living rooms, dining rooms, and office spaces. Their attention to detail and lasting comfort earned them a reputation of excellence in the home furniture industry. Now, the brand has taken their expertise to the exterior realm. Already a true pioneer and tastemaker in the home furniture industry, A.R.T. Furniture has expanded their offerings to include outdoor furniture. The A.R.T. Furniture company vision hinges on offering pieces that display exceptional quality, lasting style, and unmatched durability. The brand seeks to allow people everywhere to bring personal style to their homes by producing an inventory that merges original style, artistic details, and creative customization options. Their outdoor inventory includes lounge and dining furniture products, so it's easy to style a fully functional space that meets all of your outdoor needs.
The A.R.T. Furniture Product Line
Whether on a sizable patio, lakeview veranda, or small urban balcony, A.R.T. Furniture outdoor furniture helps to create an enviable exterior space that's an extension of your indoor home. The inventory is manufactured using weather-durable materials and fabrics that resist wear and damage from rain, snow, UV rays, and more. The exterior pieces from A.R.T. Furniture are expansions of existing indoor collections, so that best-loved indoor products coordinate seamlessly with their exterior counterparts. The company's furniture is crafted from a range of popular outdoor materials including woven wicker, Sunbrella upholstery, aluminum that is coated with a special protective powder, and tropical teak hardwood. To create an inviting outdoor oasis, choose from exterior modular sofas, loveseats, lounge chairs, chaise lounges, and more. Then, select from outdoor coffee tables and end tables to complete the lounging look. To dine and entertain al fresco, choose from dining tables, dining chairs, and stools. Complementary A.R.T. Furniture fire pit tables can be added to any patio space to bring added warmth and a lighting element.
The A.R.T. Furniture Aesthetic
No matter the size of your space or your personal style preferences, find everything you need to fashion the outdoor arrangement you're envisioning with A.R.T. outdoor furniture. Outdoor furniture selections from A.R.T. furniture are natural extensions of the most popular indoor collections from the leading brand. The furniture products range in appearance from modern and contemporary, with sleek lines and pared-down silhouettes, to stately and traditional, with generous scaling and European influences. Deep seated cushions bring the ultimate in indoor comfort to an exterior space. With so many Sunbrella fabric patterns and colors to choose from, it's simple to bring a customized look to your patio that's just as beautiful as it is durable. Select pieces from the same collection to achieve a naturally cohesive look, or mix and match your outdoor furniture selections for a one-of-a-kind space with eclectic flair.
+ More
- Less
Shop A.R.T. Furniture Outdoor Collections
Shop A.R.T. Furniture Outdoor Categories
Shop A.R.T. Furniture Outdoor Products